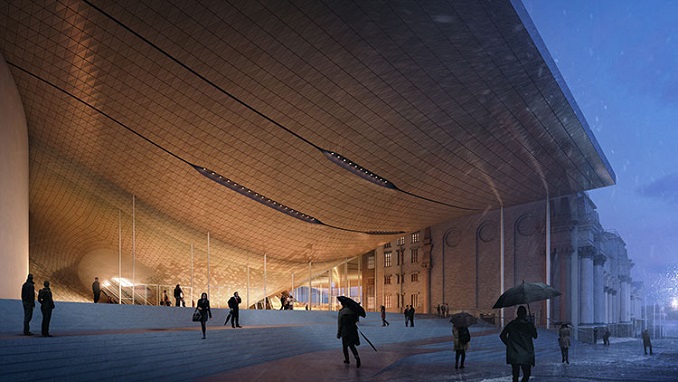 British-based design studio Zaha Hadid Architects won against 47 international teams in a competition to design the new Sverdlovsk Philharmonic Concert Hall in Yekaterinburg, Russia, ArchDaily reported.
Yekaterinburg, a growing cultural center in central Russia, was known as Sverdlovsk from 1924 to 1991. The new Sverdlovsk Concert Hall will be the new home of the Ural Philharmonic Orchestra, who has been performing in the existing Sverdlovsk Philharmonic building, which dates back to 1936.
The new Concert Hall will be able to accommodate larger audiences for the orchestra's year-round performances and also create a new public plaza in the city. ZHA's other projects in Russia in recent years include the Sberbank Technopark and a nine-building masterplan along Russia's Black Sea.
ZHA's design was inspired by the physical properties of musical sound.
"The design re-interprets these physical acoustic properties to define spaces for the auditoria that are suspended within the canopy, appearing to float above the new civic plaza that is both the lobby of the Philharmonic Concert Hall and an enclosed urban square," the firm says. 
"Russia has been a formative influence on Zaha Hadid's creative work," Christos Passas, Project Director at the studio, said in a statement.
"From very early in her career, Zaha was attracted to the Russian avant-garde who conceived civic spaces as urban condensers that catalyze a public realm of activity to enrich creativity and community; allowing space itself to enhance our understanding and well-being. These principles are embedded within the design of the new Sverdlovsk Philharmonic Concert Hall."