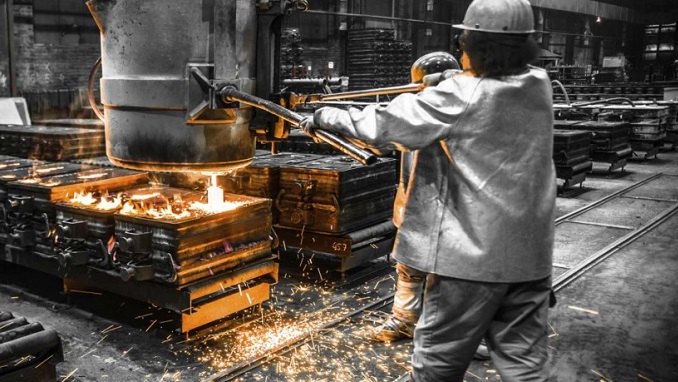 Steel volumes increased on Europe's steel market after the United States imposed import tariffs, as some manufacturers diverted their product to the European Union, the head of Germany's steel association said, according to Reuters.
"In the first three months (of 2018), imports from Russia rose by 139 percent from a year earlier, those from Turkey by 76 percent," daily Neue Osnabruecker Zeitung quoted Hans Juergen Kerkhoff as saying in an interview published on Monday.
He urged the EU to quickly implement measures to prevent foreign steel from flooding the EU market, for instance by imposing its own quotas or tariffs.
In March, U.S. President Donald Trump's administration imposed tariffs of 25 percent on steel imports and 10 percent on aluminum in a bid to stanch imports from China, which it said have driven down prices and put U.S. companies out of business.
The EU has demanded a permanent exemption from the tariffs after Washington extended a temporary reprieve from the measures for the EU, Canada, and Mexico until June 1.
"I think the EU is in a good position (for negotiations). But it must present a united front and cannot let itself be divided," Kerkhoff said.
Germany is urging its European partners to show some flexibility and pursue a broad trade deal with the United States that benefits both sides.
Trump, who ran on a nationalist "America first" agenda, claims the tariffs are needed to protect American metal producers from unfair competition and enhance national security amid a worldwide oversupply of steel and aluminum largely blamed on excess production in China.
"We need a reciprocal relationship, which we don't have … We're working on it and we want to make it more fair and the chancellor wants to make it more fair," the U.S. president said at a joint press conference with Merkel, at the White House last week.
But the move threatens to spark a trade war that could cause turmoil in financial markets. The EU – which is the biggest U.S. trading partner – has warned that, if it is subject to tariffs on the €6.4bn ($7.7bn) worth of the metals it exports annually to the U.S., it will retaliate with its own tariffs on €2.8bn ($3.4bn) worth of U.S. goods imported into Europe including Harley-Davidson motorcycles, Levi's jeans, and Kentucky bourbon.