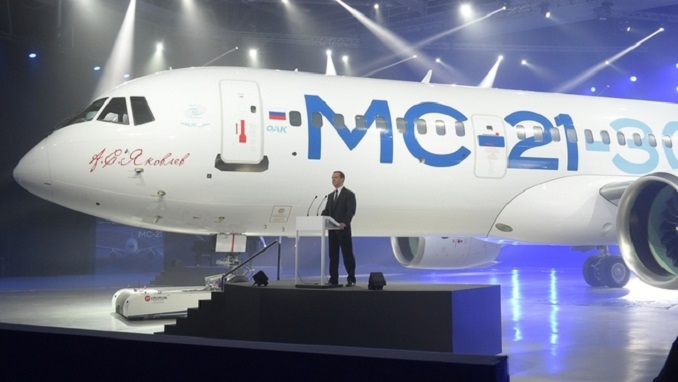 Russian President Vladimir Putin has requested a report from Rostec CEO Sergei Chemezov on the issues surrounding so-called unfair competition in regard to the new MS-21 aircraft.
The aircraft will go into production in 2022, according to Chemezov. According to the CEO of Rostec, the aircraft will have a completely new wing built of Russian material, thus the manufacturer will not be reliant on anybody.
The maiden flight of the MS-21 medium-haul passenger liner with a wing constructed of Russian composite materials will take place this year, Russian Deputy Prime Minister Yuri Borisov told reporters at the St. Petersburg International Economic Forum (SPIEF) on June 5.
The MS-21 is a proposal for a series of short- and medium-haul narrow-body jet passenger aircraft. It is being developed as a successor for the Tu-154 and Tu-204/214 airliners, as well as foreign-made aircraft such as the Airbus A320, Boeing 737, and others, with a range of 6,000 kilometers.
Irkut Corporation, a subsidiary of United Aircraft Corporation (UAC), completed the building of a prototype aircraft powered by Russian engines on November 10, 2020. The MS-21 has a seating capacity of 169 people. The second flight model successfully completed its maiden flight test from the Irkutsk aircraft plant's airstrip in May 2018.
The MC-21 took to the skies for the first time in 2017. The plane was first presented to the public in September 2019 during the MAKS air show. The aircraft took to the skies for the first time, powered by American Pratt & Whitney engines.