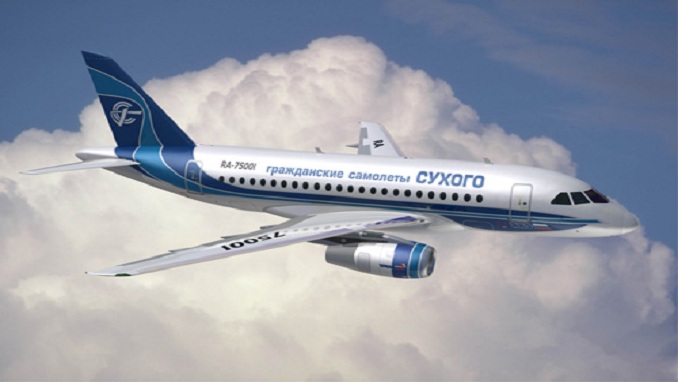 Moscow and Tehran have signed memorandums on the delivery of 40 Sukhoi Superjet-100 (SSJ-100) passenger planes to Iran at the Eurasia Airshow, Sukhoi Civil Aircraft President AleksandrRubtsov has said, according to Vedomosti.
Iran will receive the new SSJ100R version of the airliner by 2022, according to Rubtsov. Initially, both parties considered a deal for 100 aircraft, but they required approval from the U.S. Office of Foreign Assets Control since the Superjet has many U.S.-made components. Sukhoi has reduced the proportion of such components to less than 10 percent, which means no U.S. approval is now required.
"So far, we have signed two agreements of intent with two Iranian airlines (Iran Air Tours and Aseman Airlines) on deliveries of 20 SukhoiSuperjet aircraft in the RRJ-95R (SSJ100R) modification for each of these companies," Rubtsov said. He added that the contract will be signed by the end of 2018. The catalog price for a SSJ100R aircraft is about $52 million.
Sukhoi SuperJet-100 is Russia's newest twin-engine regional passenger aircraft. It began operating commercially in 2011. More than 60 aircraft are in service with airlines in Laos, Mexico, and Russia.
The SuperJet is a 100-seat regional aircraft designed and built by Sukhoi in partnership with Italy's Finmeccanica-AleniaAermacch. The first flight by the plane was conducted in May 2008. The latest version has an operating range of just over 4,500km, placing much of Europe, north and east Africa and south and central Asia within range of flights from Tehran.
The signing of the memorandums suggest that a recent marketing push by the Russian firm was a success. A SukhoiSuperjet 100 visited Tehran's Mehrabad International airport in February in an attempt by the company to secure orders for its jet.
According to Iranian media reports, Iran Air Tours is expecting to take delivery of the first planes from Russia "within a year".
The financing arrangements behind the deals with Aseman and Iran Air Tours have not been revealed. However, according to Forbes, it is likely to prove easier to arrange terms with the Russian company than it has been with Airbus or Boeing – something which appears to be behind the delays in deliveries from the western firms.