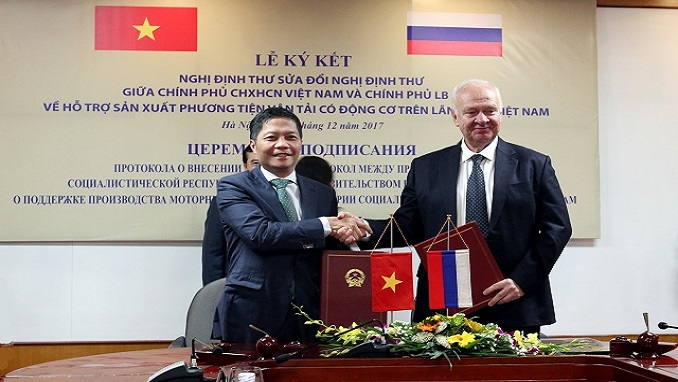 Vietnamese Minister of Industry and Trade, Tran Tuan Anh, and Russian Ambassador Konstantin Vasilievich Vnukov last month signed and amendment protocol on supporting the production of motor vehicles in the territory of Vietnam.
According to the amendment protocol, these joint ventures will be enabled to import 2,550 CBU (completely built unit) vehicles and 13,500 sets of automobile assembly parts duty-free during 2018-2022 for sale and explore the market, VietnamNet informs.
These automobiles need to comply with the contents of Decision No.08/2017/QD-TTg dated March 31, 2017, guiding the implementation of the protocol between the governments of Vietnam and Russia on supporting the production of motor vehicles in the territory of Vietnam and other related documents.
To facilitate the enterprises of the two countries and take advantage of technology and technical skills of experienced manufacturers like KAMAZ, UAZ, and GAZ, the two governments agreed to delay the time of application of duty-free import to 2018.
"Vietnam commits to continue facilitating this sector in order to benefit both sides, as well as create a foundation for co-operation in other fields and actualise the comprehensive strategic partnership between Vietnam and Russia," said Vietnamese Minister Tuan Anh.
"I hope these Vietnamese-Russian ventures will be successful and contribute to the development of the Vietnamese automobile industry, as well as take opportunities to break open the ASEAN markets with its 640 million population," the minister noted.
The Russian Federation is a key trading partner of Vietnam. Two-way trade turnover hit $3.2 billion in the first 11 months of 2017, up 27 per cent compared to the same period last year. This figure is modest compared to the preset goal of $10 billion in 2020, VietnamNet adds.