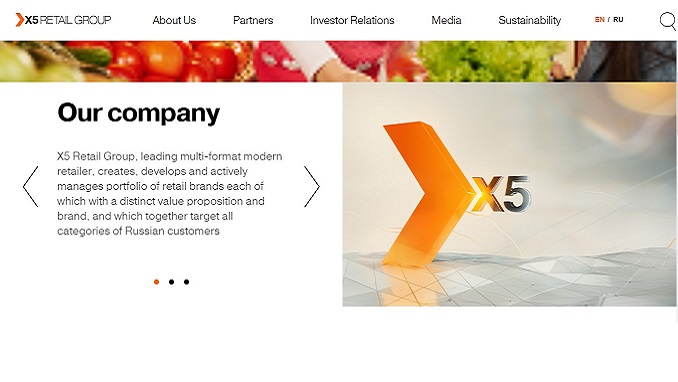 Russian retailer X5 said that its adjusted earnings before interest, tax, depreciation and amortization (EBITDA) rose to 7.2% in full-year 2018, as the business reported "sustainable growth" for the year, Fresh Plaza writes.
The retailer made the announcement as it published its 2018 Annual Report, in which it said that its grew revenue by 16.9% year-on-year and delivered positive like-for-like sales in the fourth quarter of the year.
X5 improved its grow margin by 30 basis points for the year to 24.1%, thanks to 'more effective management of [promotions]' as well as 'successful measures introduced by the new team at convenience store chain Pyaterochka to control shrinkage that started to yield results from the third quarter'.
"I am pleased to report another quarter of sustainable growth, which X5 has achieved by staying true to our mission of putting customers at the centre and adapting our business to meet their needs," said X5 chief executive, Igor Shekhterman. "We operated in an environment of low inflation and weak consumer confidence stemming from flat real income growth during nearly all of 2018. Nonetheless, X5 continued to deliver on its strategic priorities: we grew our market share by revenue to 10.7% despite scaling back our store expansion programme to focus on more balanced growth."
X5 is the largest Russian retailer in terms of revenue: in 2018, the company's revenue grew by 18.3%, to one trillion 532.5 billion rubles ($8.24 billion). The company launched online sales in April 2017 by opening an online store of its Perekrestok supermarkets in Moscow. Last autumn, the Perekrestok online store opened in St. Petersburg.