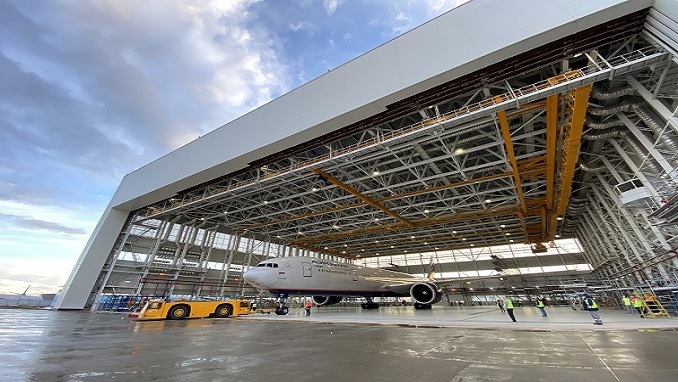 Aeroflot has put into operation a new 15,000-square-meter hangar, where all types of Western- and Russian-built aircraft will be serviced.
The hangar is located in the Northern Terminal Complex of Sheremetyevo International Airport. The hangar comprises three scheduled and unscheduled maintenance workshops, two cabin interior maintenance workshops, aircraft and component repair workshop. The complex houses two storage facilities for spare parts, materials, tools and equipment. The office space of the building will be occupied by technical control division, planning and priorities co-ordination division, and Chief Engineer's Office.
On 15 March 2021, the Federal Air Transport Agency (Rosaviatsiya) issued a permit to put the hangar in operation. Latest technologies were used when designing and building the facilities. All the premises are equipped with state-of-the-art security systems, air ventilation and filtration systems, automated fire-control systems. One of the facility's advantages is round-the-clock control unit to monitor engineering systems of the building in real time.
In the hangar, there is a telescopic work platform, which facilitates maintenance and repair operations on any part of aircraft. Integrated PIT system was installed to supply power to aircraft, provide grounding, condensate drain).
The hangar can simultaneously accommodate a wide-body aircraft (for instance, Boeing 777 or Airbus A330) and two Sukhoi SuperJet 100s, on a space of 7250 square meters.
"A-technics", a major Russian MRO provider, a subsidiary of Aeroflot Group was designated as the operator of the hangar complex. The company's professional staff perform maintenance on Boeing 737, Boeing 777, Airbus A350, Airbus A320 family and SSJ 100.