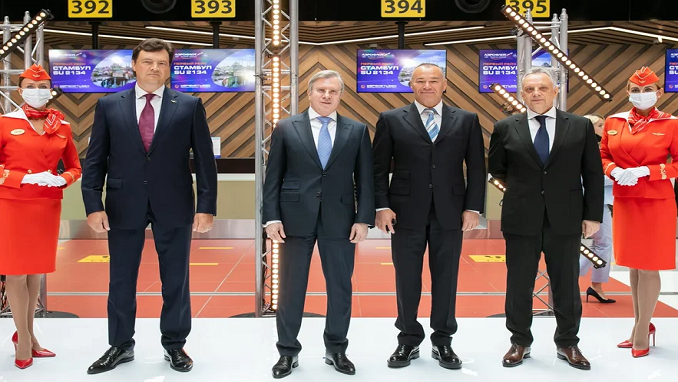 Q. Sheremetyevo just reopened Terminal C. What does that mean for the airport and the traveling public?
A. With the Northern Terminal Complex at Sheremetyevo now complete, this airport stands against any airport in the world for service, convenience and beauty. Terminal C, which connects directly to Terminal B to form the complex, was designed to make traveling as easy—to eliminate waiting times and to allow people to go easily from their train, bus or automobile to their gate. But it is also a place where people can be comfortable and entertained as they wait for their plane or transit.
It will certainly attract more travelers and more airlines to Sheremetyevo as we strengthen our position as the airport of choice for travelers flying between Asia and destinations in the West and for Russian travelers who wish to visit the many new destinations that are opening to us every year.
Q. What philosophy guided you in the design of Terminal C?
A. We were guided by two major principles in developing Terminal C. The first was service. Traveling is stressful, and we asked ourselves how we could make Sheremetyevo a place where people not only experienced less stress, but also enjoyed their time at the airport.
We also made sure that there were special areas for people traveling with young children and that there were excellent dining choices no matter how much one was able to spend. We wanted to eliminate waiting times—at the parking garage, at check-in, at boarding and at baggage claim. And, of course, we made certain that we offered the best business class lounges and shopping available anywhere.
The second was aesthetics. An airport should be more than a place you have to go to if you want to travel by plane. We wanted to make it a place people look forward to going to. So first of all, we developed a beautiful environment, with stunning architecture and design in the Russian Constructivist style. And we recreated the famous Rumka from the old Sheremetyevo terminal building.
We wanted to create a showcase of Russian aesthetics for foreigners and Russians alike, and I think we succeeded. Everyone can learn a bit about Russian history and culture through the design and displays in the terminal.
Q. What does it mean that you have connected the two terminals to form one complex?
A. Connecting Terminals B and C allows for the seamless transfer of passengers and makes it easier for all passengers to take advantage of the facilities in both terminals. More space means more comfort and convenience. Efficient management of transit passengers is very important to Sheremetyevo and will continue to be important in the future, and having one efficient terminal complex helps us do that.
Q. You opened at a difficult time for the aviation industry because of the pandemic. Has this been a problem?
A. I think we opened at just the right moment. There is a great deal of pent-up demand for travel, both domestic and international, and we saw a significant increase in travelers during the first six months of the year. We are servicing flights to new destinations, we have welcomed Air India and Japan Airlines, and of course, Aeroflot is making Terminal C its home at Sheremetyevo.
We won't go back to our 2019 levels overnight, but we are growing steadily, and with this new terminal complex, we can meet the huge demand we expect to have in the coming years. Our long term development program is fully aligned with Aeroflot Group. They see the future just like we do. And it is a bright one.