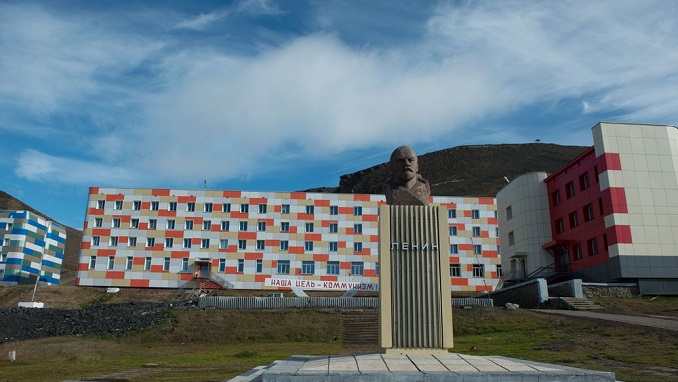 The Russian town of Barentsburg, situated on Norway's northern Svalbard archipelago, offers a unique combination of pristine Arctic beauty and Soviet-style industry to visitors. The tiny town, with a population of nearly 500, is now seeking to reshape its business-focus to become a modern hub for travelers exploring the Arctic, The Barents Observer reports.
Barentsburg is the only remaining Russian permanent settlement on Spitsbergen, the largest island on the archipelago. Svalbard is under full Norwegian sovereignty, but according to a 1925 treaty, all signatory countries are granted non-discriminatory rights to fishing, hunting and exploring mineral resources. For Russia, that means coal mining.
For Norway, whose coal mining activity in Svea is being shut down, science and tourism have risen as two new pillars to maintain Longyearbyen settlement with a population of more than 2,000 people.
Like for the Norwegians, coal mining is not either profitable in Barentsburg. Last year, 140,000 tons of coal were taken out from beneath the permafrost, more than a kilometer down below sea level. 30,000 tons were burned at the local coal power plant, providing heat and electricity to the settlement. The rest was shipped to Great Britain. About 150 people, mainly Ukrainians, work in the state-owned mining company Arktikugol (Arctic Coal).
Barentsburg is a company town by all means. Consequently, it is Trust Arcticugol that now has initiated a tourism leg of its organization.
With about 450 inhabitants, this is a company town by all means. Consequently, it is Trust Arcticugol that now has initiated a tourism leg of its organization.
Branded GoArctica, 18 employees are fulltime occupied with tourism. A new hotel with room for 90 is established and a hostel gives roof and bed for more. The port is renovated and a handicraft center is opened. In short, buildings in Barentsburg have undergone a significant 'facelift' in the last few years. A souvenir shop is opened and signs in English direct foreign visitors to the various sights.
"But, we needed something special to draw attention," says Ivan Velichenko, one of the all-rounders and enthusiasts working with GoArctica.
"So we decided to established a brewery," Ivan says with a smile. The town's old laundry house was reconstructed and in moved both the brewery and a combined bar and restaurant. The Red Bear Pub & Brewery proved to be a success.
"It is actually the northernmost brewery in the world," Velichenko proudly announces. But well, together with Longyearbyen, most things up here at 78°N are the world's northernmost. Like the school, culture house, sports hall, swimming pool, museum and library.  
"We will make Barentsburg a center for the Russian Arctic," Velichenko proclaims. He says the Soviet-style nostalgia will still be kept in Pyramiden, another Russian coal mining settlement on Spitsbergen that was closed down in 1998. At Pyramiden, GoArctica organizes guided tours, runs a small hotel with a bar and has removed tons of industrial waste and garbage over the last years.
"The comrade will remain in Pyramiden," Ivan Velichenko smiles, thinking about the bust of Lenin that stands on top of the ghost town's main street in front of the once proudly cultural palace.