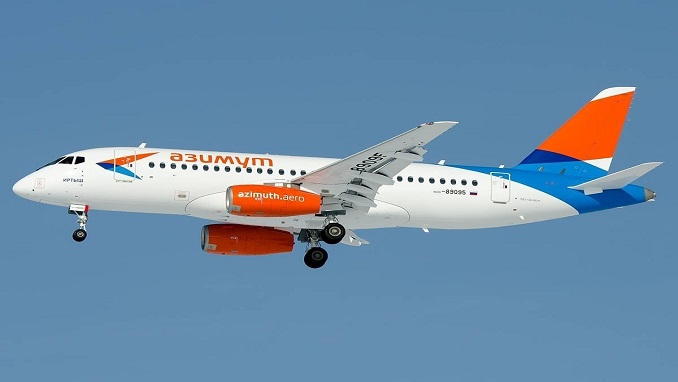 Azimuth Airlines, the world's only air carrier operating a fleet consisting only of Russian-made Sukhoi Superjet 100 (SSJ-100) aircraft, has reached breakeven point in the third quarter of 2019, its co-owner has said this week in an interview with state-run TV news-channel Rossiya-24.
Azimuth, launched just two years ago, has succeeded in this mainly thanks to state subsidies and high aircraft dispatch reliability.
"We are glad to see our business plan is corresponding with reality," said Vitaly Vantsev, the airline's co-owner. "In the third quarter of 2019, for the first time in its history, the airline achieved operational profit," he added.
According to Vantsev, the carrier's seat load factor approached 85 percent. "This [Azimuth Airlines] project is a rather challenging one because we operate a fleet that consists solely of Russian-made [SSJ100] aircraft and 80 percent of our routes connect regional city-pairs, avoiding Moscow," he pointed out. Azimuth currently operates a fleet of 11 regional jets of the type, and plans to grow it to 16 by 2022. All its aircraft were delivered under lease contract agreements with Russia's State Transport Leasing Corporation (GTLK).
"We are quite happy with the Superjet. Despite the criticisms we've heard, which focus on the aircraft type, we have now reached a 99.8 percent dispatch reliability level," Vantsev insisted.
Azimuth, which launched operations at the end of 2017, currently ranks 18th in the air passenger league table of Russian airlines. The airline is based in the south of Russia at the airports of Platov (Rostov-on-Don) and Pashkovsky (Krasnodar).
The private airline enjoys state support for its extensive regional route network and its fleet of Russian-made aircraft leased from state-owned lessor GTLK because of the Russian government's declared intention to develop the country's regional route network through subsidies from the federal and regional budgets.