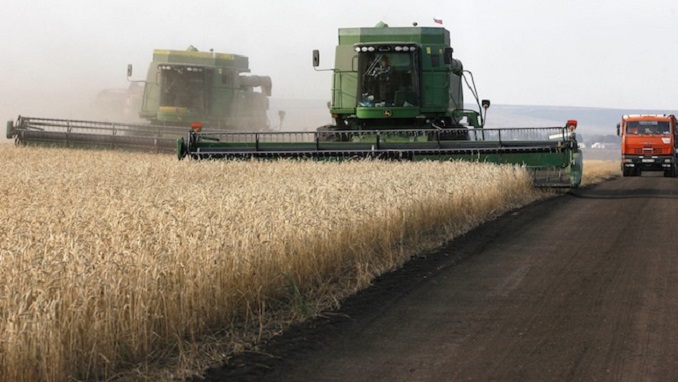 The 2019 Russian grain harvesting campaign started in a southern region of the country amid hot weather, state weather forecaster Hydrometcentre said on Tuesday, according to Reuters.
Harvesting has started in part of Russia's southern Stavropol region, one of the main producers of wheat for export. The region is currently harvesting winter grains, a representative at Hydrometcentre told the news agency.
Olga Beryoza, the head of agriculture forecasts at Hydrometcentre said that if the weather remains dry, widespread harvesting will start in other southern regions soon. "We expect a good crop (of winter grains)," she added.
The local office of the agriculture ministry said on its website that active harvesting in the Stavropol region would start by June 20.
Hydrometcentre also said Russia's spring grain sowings remain in good condition in general despite reduced moisture level in the soil after hot weather in parts of the country.
Moscow agriculture consultancy SovEcon said earlier on Tuesday it had cut its forecast for Russia's 2019 wheat crop by 400,000 tons to 82.2 million tons due to a lack of moisture in some regions.
Russia's new wheat crop usually starts hitting export markets such as North Africa and the Middle East in July. Black Sea prices for the new Russian wheat crop with 12.5% protein content and for July delivery were at $195 per ton on a free on board (FOB) basis at the end of last week.