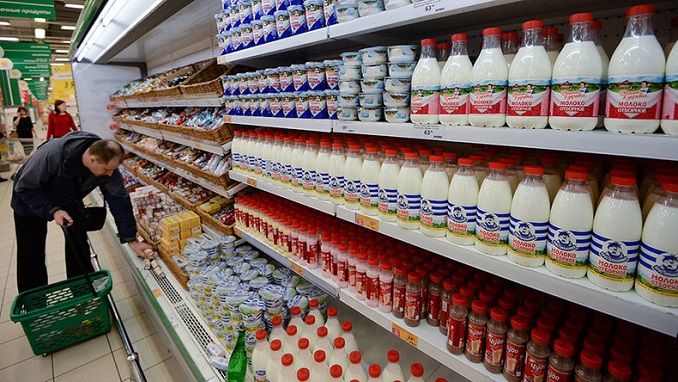 Russia has reduced imports of meat, condensed cream and milk but significantly increased import of cheese and cottage cheese in the first eight months of this year, Dairy News reports.
According to the Federal Customs Service, the import of meat (excluding poultry) decreased by 37.9% compared to the same time last year, to 257.3 thousand tons (in value terms – by 29.7%, to $931.9 million). Poultry import has decreased by 13.2% to 135.5 thousand tons (by 11.6% to $218.9 million).
At the same time, the import of condensed cream and milk decreased by 43.9%, to 92.6 thousand tons (or by 53.8%, to $172.7 million), as well as butter – by 29% to 55.2 thousand tons (or by 35.9%, to $263.6 million).
Cheese and cottage cheese import has increased by 76.4% to 259.2 thousand tons. In August, compared to July, deliveries increased almost six times, to 121.9 thousand tons. In value terms, import of cheese and cottage cheese for eight months has increased by 1.1% compared to last year, to $612.8 million (in August compared to July, imports in value terms decreased by 12.8% to $72 million).
The general manager of the Insitute for Agricultural Market Studies (IKAR), Dmitry Rilko says he expects a record for Russian exports this year, but that imports will also increase.
"It is necessary to understand that in the global market the largest exporters are also large importers," Rylko noted. The expert says that in 2017 more food exports amounted to more than $20 billion. IKAR expects them to continue to grow in 2018, but imports are also growing and will most likely top $30.5 billion, according to Rilko.
"The imbalance is that Russia exported 65 million tons, and imported 21 million tons, which means that the country exports cheaper raw materials and imports products with high added value," the head of IKAR emphasized.
According to Rylko, "domestic exporters do not need complexes, that Russia supplies large volumes of wheat and cereals to the world market. We cannot export flour products to foreign markets yet."
In January-August, Russia also imported more fruit: bananas (up 1.9%, to 1,052 million tons), citrus fruits (by 10.2%, to 885.3 thousand tons), and apples (by 28.8%, to 792.2 thousand tons).
The import of palm oil (by 23.8% to 651.6 thousand tons) and vegetable oil (by 27.8% to 18.1 thousand tons) has also increased. The import of raw sugar has decreased by 77.9% to 3.7 thousand tons. Supplies of white sugar have increased by 2.2% to 177 thousand tons, official data shows.