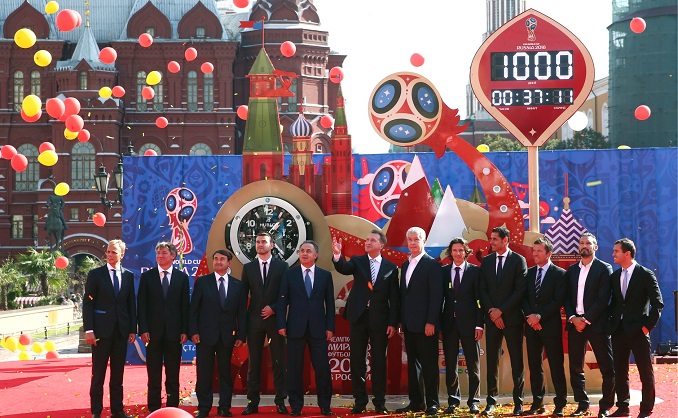 Ahead of the 2018 soccer World Cup, Russia, the host country, is making final preparations on infrastructure projects critical to the event's success.
The 21st FIFA World Cup will take place in Russia between June 14-July 15, 2018, at 12 venues in 11 cities. To keep travel time manageable, all but one of the stadium venues are in European Russia, west of the Ural Mountains.
According to a new report by CAPA – Global Airport Construction Database, the level of investment and expenditure suggests the Russian government is satisfied with the current state of the country's airports.
Just about every one of the stadiums have either been completed or refurbished since 2013, with a few remaining to be completed this year. In the most recent World Cup in Brazil, there was a rush to do so before the event began, and the Russian authorities will be keen to avoid a repeat, with both the match venues and the airports that serve them.
"In some cases, the selection of the venue seems to have been determined by the airport. Saransk, for example, was a surprising choice. Nearby Krasnodar was overlooked, despite being acknowledged as a 'football-loving' city. But a newly completed airfield, a reconstructed terminal, and an additional temporary one are available at Saransk, both for receiving foreign visitors and ferrying them away quickly to the bright lights of Moscow after the match. Krasnodar has a reconstructed runway (mid-2017) but is awaiting a new terminal building," the report says.
In Moscow, where the final and one of the semi-finals will be played, there has been construction activity at most of the airports under the banner of the Moscow Hub Airport Development Project, though not only with the World Cup in mind. A new terminal and runway will be constructed at Sheremetyevo Airport, but not until long after the World Cup is over. A new runway, terminal, and hotel are scheduled for the privately operated Domodedovo Airport too, though again – not in the immediate future.
Vnukovo Airport has no specific construction projects; perhaps surprisingly, as it is the highest airport and often used as an alternative in certain weather conditions, and also because it can handle general aviation demands. The newest airport, Zhukovsky, which is handling mainly LCC traffic, will have its terminal expanded by a consortium led by the Lithuanian investor Gediminas Ziemelis, but it may come too late for the sporting event.
Then again, the government may consider that the Moscow airports are sufficiently well developed any way to handle any demand surge, and that attention should be focused on smaller airports, according to the CAPA report.