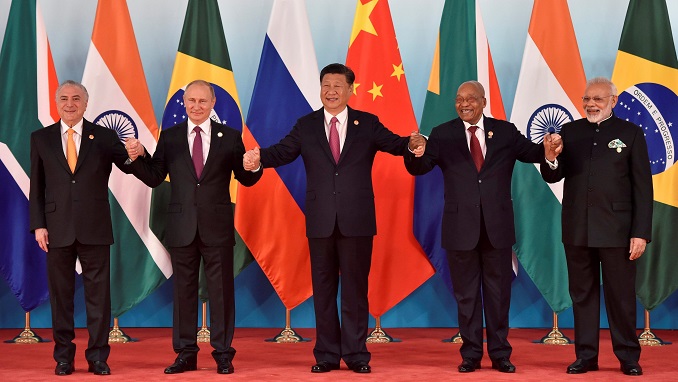 Foreign ministers of the world's strongest emerging economies have slammed President Donald Trump's imposition of import tariffs on goods, The Associated Press reported.
At their meeting in Pretoria preparing for the summit of leaders from Brazil, Russia, India, China and South Africa (BRICS) in July, they carefully avoided naming the U.S. president in their criticism.
BRICS nations on June 4 said they oppose the "new wave of protectionism" and the systematic impact of unilateral measures that are incompatible with World Trade Organization (WTO) rules, apparently referring to U.S. President Donald Trump's tough trade policies.
The BRICS ministers "reaffirmed their resolve to foster a global economic governance architecture that is more effective and reflective of the current global economic landscape, increasing the voice and representation of emerging markets and developing economies," it said.
The statement came as Trump imposed tariffs on steel and aluminum imports from top U.S. trading partners, including Canada, Mexico, and the European Union. He has threatened tariffs on up to $200 billion in Chinese imports, raising the potential of a trade war.
Trump's tariffs policy is even being protested by some of its closest allies, like the United Kingdom. According to The Guardian, Theresa May has told Trump that U.S. tariffs on EU steel are "unjustified and deeply disappointing", speaking by phone on Monday with the American president for the first time since the levies were imposed last week.