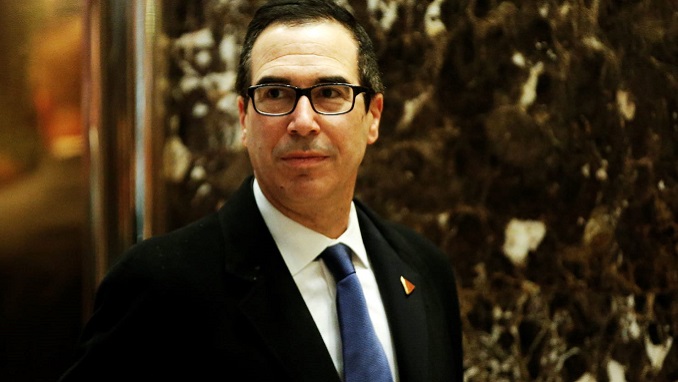 California lawmaker Jackie Speier, a member of the House Intelligence Committee, sent a letter to U.S. Treasury Secretary Steven Mnuchin last week seeking information about a deal he reportedly struck in 2017 with Ukrainian billionaire Leonid Blavatnik, an associate of sanctioned Russian oligarch Oleg Deripaska, Buzzfeed News reports.
Writing that she has "serious concerns" about Mnuchin selling his shares in RatPac-Dune Entertainment to Blavatnik for roughly $25 million, she noted the move is "especially alarming" in light of media reports suggesting that Deripaska's divestments may end up benefiting family members, other oligarchs, and a state-controlled Russian bank.
Blavatnik, the letter notes, co-owns aluminum company Sual Partners with another sanctioned oligarch, Viktor Vekselberg, and Sual "is a major shareholder" of Rusal, one of Deripaska's sanctioned companies. It also notes that Blavatnik formerly served on Rusal's board and that one of his companies donated $1 million to Trump's inaugural fund.
A billionaire with close ties to the Kremlin, Deripaska himself has remained personally sanctioned by the Treasury Department, but measures imposed on his companies earlier this year roiled global metals markets.
After what was reported to be a sustained lobbying campaign, the companies, which included Rusal and En+, succeeded in persuading the Treasury Department to lift the sanctions, and that Deripaska would divest some of his holdings, resolving the issue.
According to the New York Times, a binding confidential document signed by the Trump administration and Deripaska suggests that the agreement the administration negotiated with the companies controlled by the oligarch may have been less punitive than advertised.
The deal contains provisions that free him from hundreds of millions of dollars in debt while leaving him and his allies with majority ownership of his most important company, the document shows.