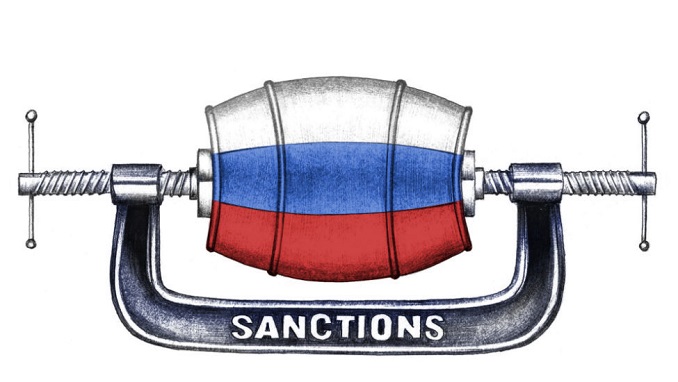 A total of 245 Russian citizens and 439 legal entities are currently under U.S. sanctions, a senior official from the Russian Foreign Ministry said Monday, according to NTV.
Since 2011, the United States has imposed 52 rounds of sanctions on Russia, Georgy Borisenko, director of the North American Department of the ministry, told a meeting of the Foreign Affairs Committee in the Federation Council, the upper house of the Russian parliament.
The committee is discussing a bill, recently passed by the State Duma, the lower parliamentary house, authorizing Russian President Vladimir Putin to impose sanctions in response to restrictions adopted by the United States and its allies.
The upper house is scheduled to examine the bill at its plenary session on Wednesday. The bill has to be endorsed by the Federation Council before being signed into law by Putin.
Analysts seem to agree that the sanctions are hurting not only the Russian economy but also the Kremlin's political position, prompting President Vladimir Putin to diplomatic action. Putin capped off on an intensive period of Russian diplomacy at the weekend agreeing with Japanese Premier Shinzo Abe to renew efforts to sign a post-World War II peace treaty and accelerate economic cooperation.
Within a week, the Russian president has met four leaders from the top 10 world economies, underlining a key goal of the newly re-elected Putin is re-energizing relationships across the globe.
"The question of rebuilding Russian's foreign relations is especially pressing with Europe after years of sanctions over Ukraine and Crimea; concerns over Moscow's alleged extensive meddling in a suite of western elections; plus the recent attempted murder in England of former Russian spy Sergei Skripal and his daughter which has been widely blamed, internationally, on Moscow. To this end, Mr. Putin met not just Mr. Macron last Thursday and Friday, but also Mrs. Merkel the week before to try, in the French president's words, to work 'hand-in-hand one of the most difficult periods of our history'," says analyst Andrew Hammond in an opinion published by the Business Times.