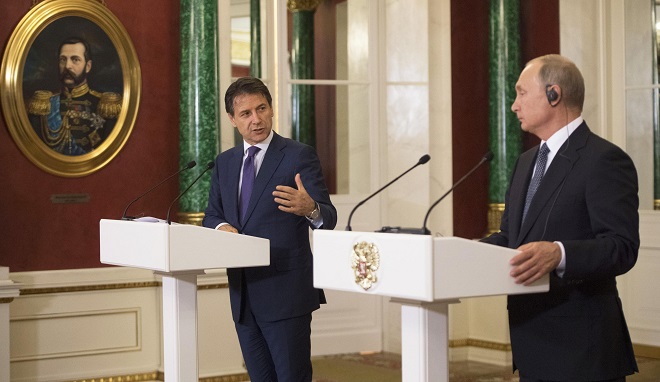 Italian Prime Minister Giuseppe Conte is urging an end to European Union sanctions on Russia and said he is committed to boosting trade with Moscow, despite the measures, La Repubblica reports.
On his first trip to Moscow since taking office in June, Conte on Wednesday hailed Russia as an essential global player and invited Putin to visit Italy.
"For Italy, the sanctions aren't the goal. They are an instrument that must be overcome as soon as possible," said Conte, the head of Italy's new populist governing coalition.
However, he declined to say if Rome is ready to veto a planned renewal of the sanctions expected to come before EU leaders in December. "Italy would like to persuade other European countries that the only way forward is through dialogue," he said.
Conte held hours of talks with Russian President Vladimir Putin in the Kremlin, and then the two looked on as officials signed a slew of trade and investment agreements aimed at overcoming a collapse in trade resulting from the EU's sanctions as well as from Moscow's retaliatory moves banning many European imports.
Putin said Russian-Italian trade reached $24 billion last year, but he said that was less than half the nearly $54 billion total in 2013, the year before the EU sanctions took effect.
"Regrettably, Italy's niche in the Russian market has decreased, but the volume of our economic ties has remained strong," Putin said.
Several rounds of EU and U.S. sanctions have crippled Western investment projects in Russia. Earlier this year, the Italian energy giant Eni abandoned a joint project with Russia's top state oil company Rosneft to tap Black Sea oil reserves.