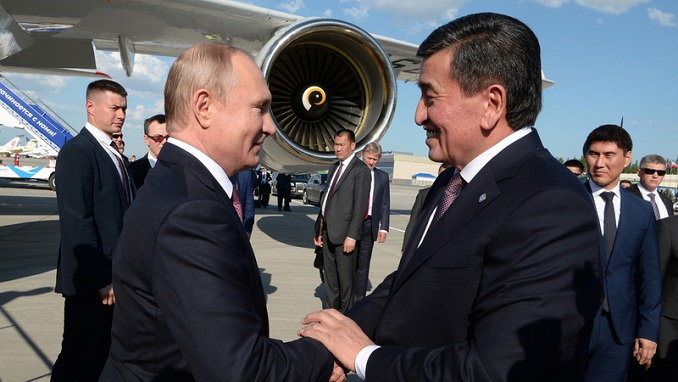 The Shanghai Cooperation Organization (SCO) convened on June 14 for a summit in the Kyrgyz capital, Bishkek. Russian President Vladimir Putin, Chinese President Xi Jinping, Kyrgyz President Sooronbai Jeenbekov, and the leaders of other SCO member states, Kazakhstan, Tajikistan, Uzbekistan, India, and Pakistan, met behind closed doors, Radio Free Europe/Radio Liberty reported.
The Kremlin has said that the Putin will also take part in a trilateral meeting with the leaders of China and Mongolia on the sidelines of the SCO summit.
Russia, China, Kazakhstan, Kyrgyzstan, Tajikistan, and Uzbekistan established the SCO, a Eurasian political, economic, and security grouping, in the early 2000s. India and Pakistan joined in 2017. Afghanistan, Belarus, Iran, and Mongolia have observer status.
On June 13, Kyrgyz President Sooronbai Jeenbekov discussed bilateral ties and regional security issues with his Chinese counterpart, Xi Jinping, according to the Kyrgyz presidential office.
Jeenbekov said after the talks that Bishkek and Beijing have "a common standpoint on the fight against three evils: terrorism, extremism, and separatism."
Ahead of the summit, Chinese President Xi Jinping said he will have an in-depth exchange of views with Jeenbekov on deepening the China-Kyrgyzstan comprehensive strategic partnership, jointly building the Belt and Road, expanding mutually beneficial cooperation in various areas, and other international and regional issues of common concern, so as to chart the future course for bilateral relations.