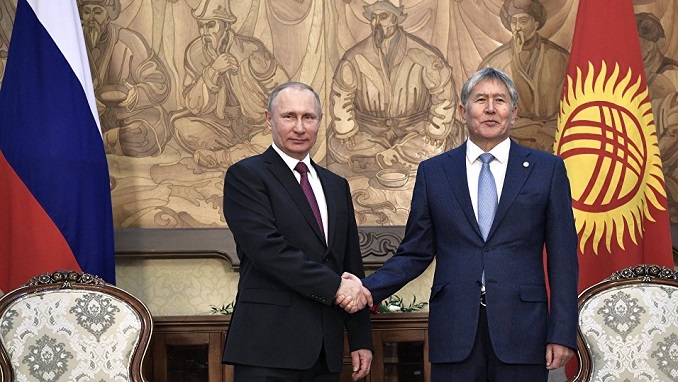 The central Asian nation of Kyrgyzstan is keen on investment from Russia in five economic sectors the country's officials and companies have identified as significant, AKI Press news agency reports.
Founders and top managers of more than two hundred leading enterprises of Kyrgyzstan and Russia discussed ways to expand cooperation within the Eurasian Economic Union (EEU). On Friday, a Kyrgyz-Russian business forum was held at the Ala-Archa state residence near the Kyrgyz capital Bishkek.
Kyrgyz Deputy Economy Minister Eldar Abakirov told the guests about five economic sectors profitable to invest in, as well as measures taken by the country's authorities to create favorable conditions for doing business.
Abakirov urged to consider the possibility of investing in the garment industry, processing of agricultural products, tourism, information technologies, and medicine. According to experts, these sectors can give high growth and invested funds could be paid off in 3-5 years, he said.
Two contracts were signed at individual meetings. The Kyrgyz-Russian Development Fund (RKDF) and the Russian Export-Import Bank signed a contract on concessional lending for the supply of Russian equipment to a Kyrgyz state-owned company, and the Imperial Group of Companies, Kyrgyzstan's footwear manufacturer, and Russian Leather JSC signed a contract for the supply of raw materials.
Exports of Kyrgyz goods to Russia increased by 41% over the first half of 2018 and by 47% in 2017. In 2017, trade between Kyrgyzstan and Russia amounted to $1.5 billion and increased by 12.4% compared to 2016, of which Kyrgyz exports were $265 million, and imports — $1.3 billion.
Kyrgyzstan exports clothing, machinery, agricultural raw materials, and glass to Russia, and imports oil products, ferrous and non-ferrous metals, consumer goods, timber, cardboard, chemical products, perfumes and cosmetics, plastics, agricultural products, and household appliances.