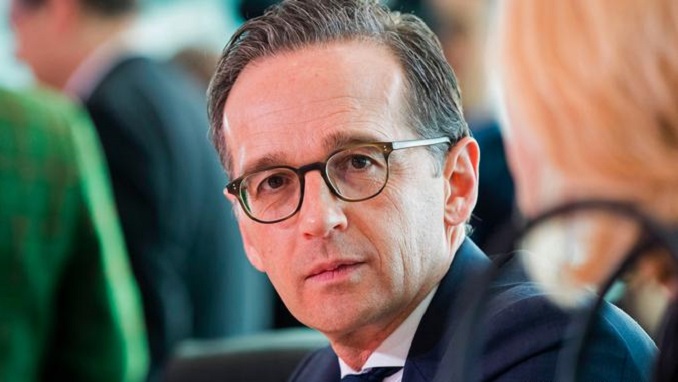 Germany's new foreign minister, Heiko Maas, has indicated a tougher line against Russia since taking up his post a week ago, Handelsblatt reports.
Former foreign minister and now German president Frank-Walter Steinmeier congratulated President Vladimir Putin on his recent election win. Maas, meanwhile, had far harsher words.
"There certainly can be no claim to fair political competition in all respects," he said.
And while his predecessor, Sigmar Gabriel, was talking of partnerships with Moscow, Maas was working on a joint statement with his EU colleagues condemning Russia for its alleged involvement in the poisoning of former double agent Sergei Skripal in Britain. For the Europeans, who view Russia as a threat since its invasion of Ukraine in 2014, there is only one plausible explanation for the attack: an assassination attempt ordered by the state.
According to Norbert Röttgen, the head of the Foreign Affairs Committee in the German parliament, Maas's first statements suggest that he is counting on clear opposition to Russia's aggressive course, which violates international law.
Röttgen is calling for a continuation of the "firm, consistent policy of non-acceptance of Russian aggression" that Chancellor Angela Merkel has pursued alongside other European and NATO partners.
"Putin has rekindled Russian pride and national feeling. This is his source of power," says Röttgen, who has repeatedly accused Gabriel of deviating from the set German policy. Germany must always be ready to talk, he said, but must not make any concessions on elementary principles of international politics.
Other members of the Bundestag take a different view, with a cross-party alliance of friends of Russia taking shape. Most recently, Bundestag Vice President Wolfgang Kubicki, from the pro-business FDP party, spoke out in favor of ending sanctions imposed against Russia following its annexation of Crimea "step by step."
The policy largely reflects business interests. There are 5,000 German companies with operations in Russia, and they believe business will pick up significantly if the sanctions are lifted.
Merkel is unlikely to shift her line. Those who set the tone in her government do not trust Mr. Putin and see his expansive foreign policy as a threat to the European security architecture. But, as both begin new terms in office, they know they will have to deal with each other.
Unlike the politically troubled chancellor, the Russian president is at the height of his power. "Putin feels that he is on the winning side," said Stefan Meister of the German Council on Foreign Relations, a think tank. "He sees a weakened EU and a weakened America and has gained new domestic legitimacy through the elections." And he is unlikely to be willing to cooperate because the conflicts Mr. Putin is stirring up with the West benefit him domestically. "This is why we must prepare for further conflicts," Meister warned.