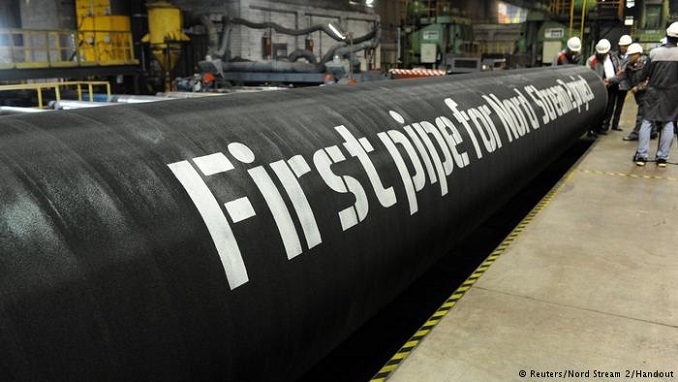 Possible U.S. sanctions against Switzerland's Allseas and Italy's Saipem – the companies constructing Russian offshore gas pipelines – will not affect Russia's Nord Stream 2 project, analysts speaking to daily newspaper Izvestia say.
On Tuesday, U.S. senators have come up with a bill imposing restrictions on individuals and companies involved in the construction of the Nord Stream 2 gas pipeline. However, a U.S. financial source told Izvestia that the bill is unlikely to make it to the Congressional vote.
The Nord Stream 2 AG operator told the paper that the gas pipeline's construction was well underway with more than 1,200 kilometers of pipes having already been laid.
"As of now, the project's capital investment budget of eight billion euro has been invested, which created thousands of jobs and boosted economic growth in Europe. More than 670 companies from 25 countries are involved in the project," the operator noted.
"While construction work goes on, there is little chance that its progress will be significantly affected. To achieve that goal, these sanctions had to have been imposed much earlier. It means that now, if restrictions are announced, these companies will keep on laying pipes," said ACRA expert Vasily Tanurkov.
Laws can have retrospective application only in exceptional cases, so imposing sanctions on companies constructing Russian pipelines under agreements made before the restrictions came on the scene looks like a difficult task, says Alexander Pakhomov, Director of the Law and Mediation Fund for the Fuel and Energy Complex.
An exceptional case took place, for instance, when France's Total abandoned its obligations under a contract with Iran's NIOC concerning the development of the South Pars gas field after facing the threat of US sanctions.
However, to push a bill penalizing a company as big as Allseas would be difficult particularly because it is a European company working on a project that is in line with the European Union's interests, Pakhomov says.
"Unlike NIOC, Nord Stream 2 has many high-level defenders, including the leaders of EU member states," the expert pointed out.