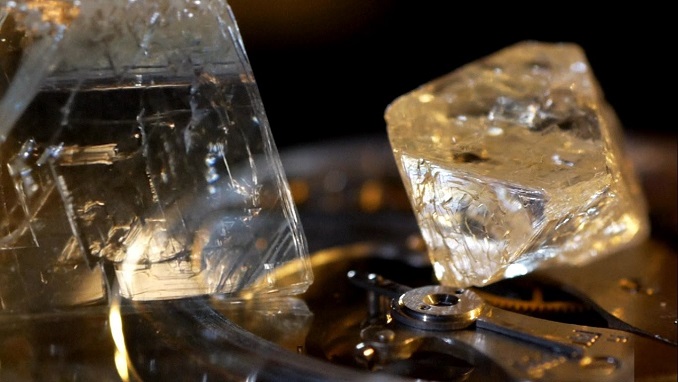 Russia's Norilsk Nickel and Alrosa, two of the country's biggest mining firms, are considering switching to payment mechanisms that use Russian rubles rather than U.S. dollars, RIA news agency reported.
Russia has been reducing its financial and economic dependence on the United States in an attempt to insulate itself from the effects of American sanctions.
If major Russian firms get consent from customers in countries such as China and India to settle payments in rubles, that will further reduce Russia's dependence on the U.S. currency and limit the reach of Washington's measures, analysts say.
The Kremlin said on Monday that Russia favored bilateral trade with all countries in their national currencies, rather than the dollar, but that the idea needed detailed work before being implemented.
Norilsk Nickel, which vies with Brazil's Vale SA to be the world's biggest nickel producer and is the world's top palladium producer, said on Wednesday it was discussing the possibility of settling payments in rubles with foreign customers that had signaled their readiness for such an arrangement.
Russian miner Alrosa, the world's largest producer of rough diamonds in carat terms, also said on Wednesday it was testing a mechanism to settle payments in Russia's currency.
"By way of an experiment, such deals were completed with clients in China and India," the company said in a statement.
Expanding U.S. sanctions against Russia have exacerbated tensions between the two powers. The penalties have placed downward pressure on the ruble and prompted Russia to significantly reduce its holdings of U.S. Treasury bonds.
The move comes as both Russian citizens in companies are remembering the country's 1998 technical default on main types of sovereign debt securities, which happened exactly 20 years ago, on August 17.
On that day, Russia officially announced plans to expand the ruble-to-dollar exchange rate band, a restructuring of ruble-denominated debt, and a 90-day moratorium on the payment of various bank obligations and currency forward contracts to foreign creditors. According to estimates of the Moscow Banking Union, Russian economy lost $96 billion from the crisis in August 1998.