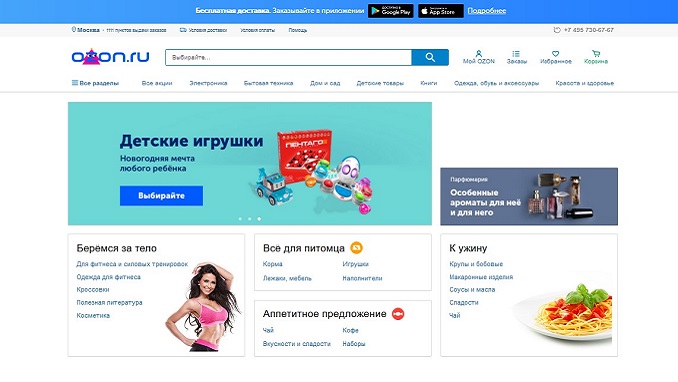 Russian e-commerce platform Ozon is investing $150 million in a tenfold expansion of its fulfillment network, after posting a 73% growth in online sales in 2018, East-West Digital News reports.
Private equity firm Baring Vostok and Russian conglomerate Sistema have provided a 10 billion ruble (roughly $150 million) convertible loan to Ozon.
The funds will help the company "maintain its current growth rate and to develop its warehouse infrastructure, IT-platform, marketplace and financial services offerings," according to a Baring Vostok statement.
The sales revenues of Ozon, Russia's leading multi-category e-commerce platform, increased by 73% last year, reaching 42.5 billion rubles (nearly $680 million) including VAT. More than 15 million orders (74 million items in total) were processed, the company announced last month.
Much of the activity increase was driven by a larger assortment (now 1.6 million SKUs) and more efficient logistic processes, according to the company.
As of late 2018, the company operated a logistic infrastructure of around 100,000 square meters. These facilities include a large fulfillment center in Tver, a city 180 kilometers northwest of Moscow, and other centers in the Moscow region, Kazan, Ekaterinburg, Voronezh, Krasnodar, Novosibirsk and St-Petersburg.
"The physical limitations of our fulfillment centers prevented us from doing even better," said Darya Chalova of Ozon's press service to East-West Digital News.
Several other Russian online retailers also grew rapidly last year, including market leader Wildberries.