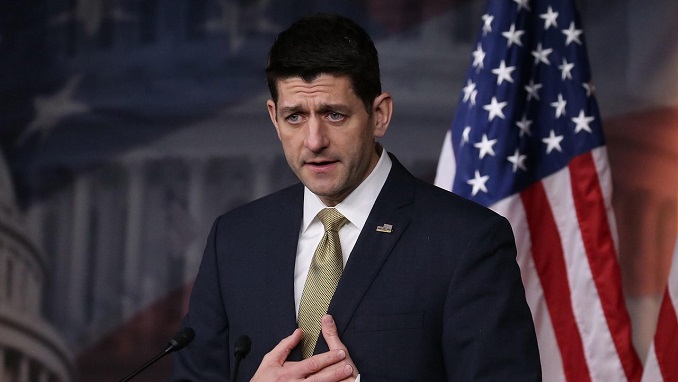 U.S. House Speaker Paul Ryan said on Tuesday the United States and its allies should condemn Russia for its election meddling and cyber attacks, Radio Prague reported.
Speaking in the Czech Republic, Ryan commended unity shown over a nerve agent attack on a former Russian spy in Britain. The Czech Republic was one of 24 nations, including London and Washington, to expel a total of 130 Russian diplomats to punish the Kremlin for the nerve gas attack.
"It is important that we work in solidarity with each other, free people in democracies to stop Russia and condemn Russia for this kind of belligerent activity," Ryan said.
"Whether it is the specific activity in Britain or the fact that Russia is trying to sow chaos with disinformation and meddle in democracies in other countries. That is violating the sovereignty of other countries," said the Republican politician.
Ryan is the highest-ranking U.S. official to visit Prague since President Barack Obama in 2010. He met Prime Minister Andrej Babis but not President Milos Zeman, who has often taken pro-Russian positions.
According to the Washington Post, Ryan also said he raised the case of suspected Russian computer hacker Yevgeniy Nikulin who Czech police arrested in October 2016 on a U.S. warrant, four years after he is alleged to have hacked into U.S.-based social media companies LinkedIn, Dropbox and Formspring.
Nikulin's case became an international tug-of-war when Russia made a rival extradition request shortly after the U.S. put forward its request. In Russia, Nikulin is wanted for alleged involvement in an online theft of $2,000 in 2009.
"The case for extraditing him to America versus Russia is extremely clear," Ryan said.
"He did violate our laws, he did hack these companies, as you say. So the extradition claim is very legitimate. And I just expect that the Czech system will go through its process, and at the end of that process, I am hopeful and expecting that he'll be extradited."