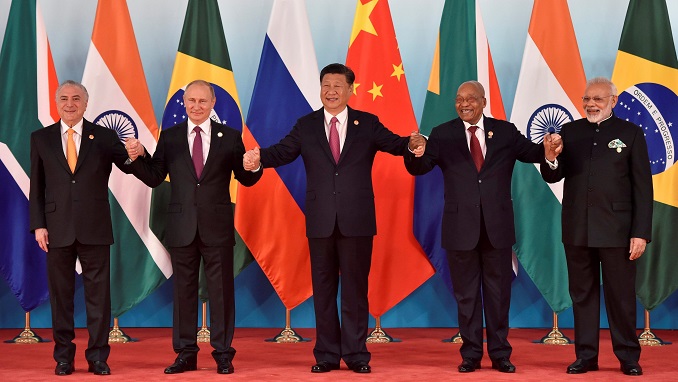 Russian President Vladimir Putin told a BRICS Summit in Brazil that his country's economic cooperation with the members of the informal association of the world's biggest emerging economies continues to expand, Channel One reports.
According to Putin, Russia's trade with Brazil, India, China and South Africa has grown by 22.4 percent last year.
"We are actively participating in international trade, boosting our mutually beneficial ties with foreign countries — first and foremost, our BRICS partners. In 2018, our trade with the four countries exceeded $125 billion," he noted.
The Russian leader also said that his country is ready to share its experience in digital technologies with other BRICS members.
 "There are good chances for boosting our cooperation in computer science and telecommunications. Russia offers BRICS states to take a closer look at our newest projects. I am talking about electronic document management, search systems and antivirus software, which responds to the highest advanced security requirements," said Putin.

Putin has earlier called on the trade partners to develop settlements in national currencies, instead of the commonly used currencies like the U.S. dollar. According to him, the integration of payments systems and the establishment of an independent channel on information exchange could facilitate the stability of the banking systems of the five countries.
After meeting with Chinese President Xi Jinping, Putin made some gloomy predictions about global growth rates, citing recent International Monetary Fund (IMF) forecasts, but that the BRICS are doing their best to fend off the trend. He also blamed politically motivated protectionism for the downturn.
"The BRICS countries are making considerable contributions to support growth," he said. "The global economy has been influenced by the wide usage of unfair competition in trade, unilateral sanctions, including those that are politically motivated, and protectionism is flourishing."