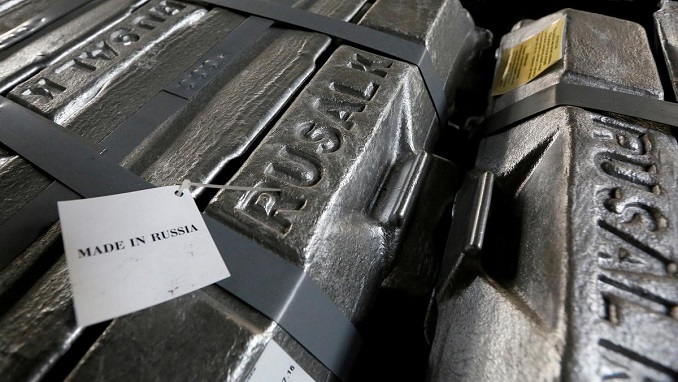 Russia's Rusal, the world's second-biggest aluminum producer, posted a fourth-quarter adjusted net loss of $17 million on Thursday, compared with a $338 million profit in the previous quarter, Reuters reported.
The company posted a $350 million profit in Q4 in 2017.
Rusal said its fourth-quarter adjusted earnings before interest, tax, depreciation and amortisation (EBITDA) fell 38.1 percent from the year ago period to $363 million, while revenue was down 13.8 percent year on year to $2.37 billion.
However, a lot has changed for the Hong Kong-listed company since the three months represented in these results. Rusal was relieved of U.S. sanctions in January, after long negotiations with the U.S. Treasury Department. As part of the deal, Rusal's owner, billionaire oligarch Oleg Deripaska had to give up control of the company.
Rusal reported a net profit increase of 7.8 percent year-on-year in 2018, amounting to $1.695 billion. Its shares fell on Thursday after the Q4 loss announcement, but the company said it keeps a positive outlook after the U.S. sanctions were lifted.
"Despite the OFAC Sanctions, Rusal's full-year results demonstrated skillful crisis management," said Rusal's CEO Evgenii Nikitin in a statement.
"We expect aluminum demand to recover after the trade wars and supply shocks of late 2018. Alongside forecasting markets outside China to be in heavy deficit in 2019, we are confident that Rusal is fully capable of leveraging this trend," he added.
"The aluminum market in 2018 was seriously affected by the Office of Foreign Assets Control (OFAC) sanctions as well as the trade wars and imposed import duties that resulted in significant growth of premiums and prices," the Rusal report reads.
In April last year, Rusal was included in an extended blacklist of enterprises and individuals hit by U.S. economic penalties. The company's shares plummeted to an all-time low on the news, with analysts expressing doubts over the producer's ability to keep up operations.