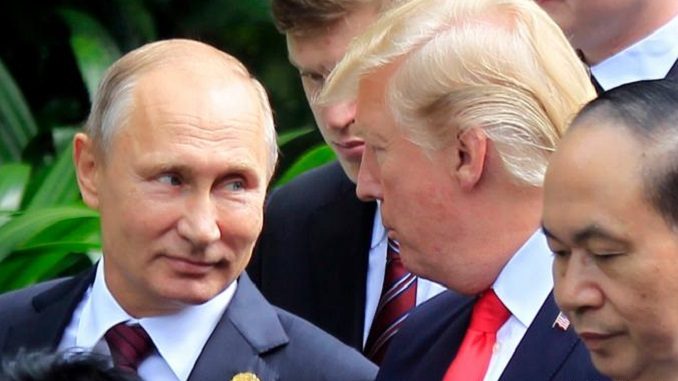 Russian President Vladimir Putin has said that his country and the United States have common interests in the global energy markets, which can lead to cooperation in regulating energy prices, TASS reports.
"I believe that we as the largest oil and gas powers, and the United States is such a country also, can meaningfully work on regulation of international markets. This is because we are not interested in the price collapsing below the lowest level, since our producers will suffer from that, in the United States also, by the way, referring to shale oil and gas," Putin said after a meeting behind closed door with his U.S. counterpart Donald Trump.
"Production profitability vanishes beyond a certain framework," he noted.
Moscow and Washington are also "not interested in extremely high prices," the Russian leader said. "We have things to discuss in this aspect and there is a field for cooperation," Putin added.
During the talks between the two presidents and business communities of Russia and the United States, special attention was dedicated to the economy, while the two countries definitely have interest to cooperate, the Russian president noted.
After the meeting, Trump came under severe criticism in the U.S. for "caving spectacularly" to the Russian President, with some media outlets going as far as to accuse the president of treason. The New York Daily News called Trump "a traitor", with its front page featuring an illustration of Trump holding hands with a bare-chested Putin and shooting Uncle Sam in the head with a gun in the other hand.
The Washington Post's headline is: "Trump touts Putin's 'powerful' denial". The paper says Trump handed the Russian president "an unalloyed diplomatic triumph" during their summit as he refused to support the "collective conclusion" of the U.S. intelligence agencies that Russia interfered in the 2016 presidential election.