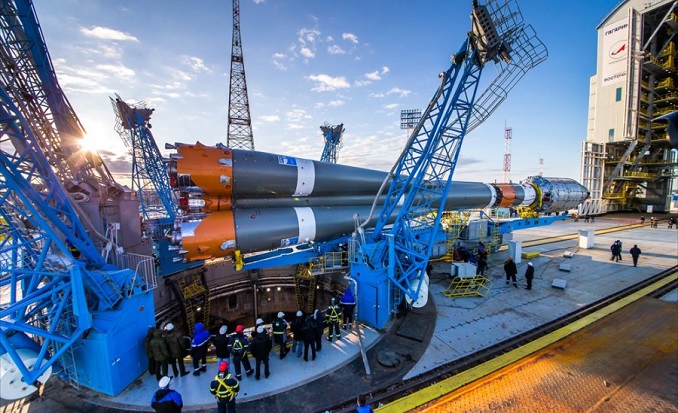 Private companies are helping NASA enter the next generation of U.S. space exploration, adding uncertainty for the future of a long-standing cooperative relationship between the two countries, RFE/RL writes.
When NASA ended its shuttle program in 2011, the U.S. turned for help to Russia's space agency Roscosmos and the country's Soviet-era design Soyuz rockets. The U.S. agency has paid Roscosmos some $2.5 billion for its services since. The symbiotic space partnership, in which one plays the role of the flashy, technologically advanced pioneer, and the other the stable provider of decades-old yet reliable designs and equipment, is now facing challenges in an atmosphere of growing political tensions and sanctions, the report says.
An alarming launch mishap in October sent a Russian and American hurtling to Earth, which, along with a mysterious hole in the module of the International Space Station (ISS), added to the questions about the reliability of Russia's program.
Private companies like SpaceX are gaining ground in their race to build rockets that can carry man and cargo to the ISS. And they are homing in on the lucrative global market for satellite launches — both commercial and government — threatening to undercut Russia's market share and deprive Roskosmos of badly needed revenue.
The developments also put the United States on track to replace the Russian-built RD-180 engines it has been using to power its Atlas V launch vehicle — an uneasy reliance complicated by Washington's efforts to sanction Russia for its annexation of Ukraine's Crimean Peninsula.
The United States is officially to halt using the RD-180 in 2022 — slicing revenues for the venerable power-plant's manufacturer, Energomash — and some U.S. rocket manufacturers may have replacement engines ready to go before then.
On Tuesday, it was reported that Dmitry Rogozin, the head of Roscosmos, may apply for U.S. visa in January, as the program of his visit has not been prepared yet, according to a spokesperson for the agency.
Rogozin, a former deputy prime minister, was among the first Russian officials banned from entering the United States in March 2014 for supporting Crimea's reunification with Russia. NASA has recently invited him to visit the United States for discussions of bilateral collaboration. The U.S. agency's administrator James Bridenstine, who himself met with Rogozin in Moscow in October, has said that NASA was working on obtaining a sanctions waiver for Rogozin, who has been subject to U.S. restrictions.