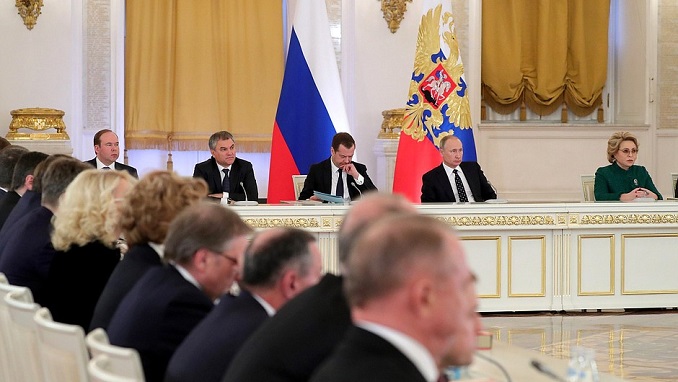 Russia's gross domestic product grew by 1.5 percent in 2017 after contracting by 0.2 percent in 2016, data from the Federal Statistics Service showed on Thursday, Reuters reported.
Analysts polled by Reuters in late December forecast that the Russian economy would grow 1.7 percent in 2017. President Vladimir Putin said on Wednesday Russia's economy had expanded by 1.4 percent in 2017.
On Wednesday, President Vladimir Putin said Russia's gold and currency reserves have reached $442.8 bln.
"Gold and currency reserves are kept at a high level. They have grown recently and amounted to $442.8 bln," the president said, speaking at a meeting with representatives of the economic council of the French-Russian Chamber of Commerce and Industry (CCI France Russie).
This month, Russia's Ministry of Finance aimed 1 trillion 420 million rubles from the Reserve Fund in December 2017 to cover the budget deficit. The accounts of the fund have thus formed zero balances. From February 1, 2018, the fund will cease to exist, officials with the ministry said.
The funds of the Reserve Fund were kept on the accounts with the Bank of Russia in foreign currency in the amount of $6.2 billion, €6.71 billion and £1.1 billion. The funds were sold for 1.000,42 billion rubles and wired to the single account of the federal budget.
The Reserve Fund of the Russian Federation was formed on February 1, 2008, after the Stabilization Fund was split into the Reserve Fund and the National Welfare Fund of Russia (NWF). The Reserve Fund is to be eliminated and affiliated with the National Welfare Fund.
From June 2015 to June 2017, Russia's gold reserves increased from $316 billion to $412 billion, while the Reserve Fund declined from $76 billion to $16 billion during the same period. Thus, other assets of gold and foreign currency reserves of the Russian Federation were growing faster than the Reserve Fund was declining.