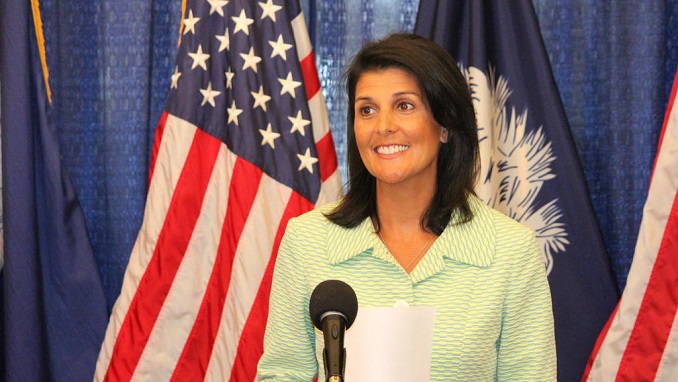 A Russian Foreign Ministry official said the Trump administration notified Russia's U.S. embassy in Washington Sunday that there were no plans to impose any further sanctions soon, Bloomberg reported.
The ruble flipped from being the worst performing emerging-market currency to the best in the first hour of trading in Moscow, after Washington sent conflicting signals over its plans for further sanctions on Russia. Russia's stock market surged more than 2 per cent on Tuesday.
U.S. ambassador to the United Nations, Nikki Haley, said on Sunday the Treasury would announce new sanctions soon targeting Russian companies linked to Syria's chemical weapons program.
"You will see that Russian sanctions will be coming down," Haley said on CBS's Face the Nation. "Secretary Mnuchin will be announcing those on Monday, if he hasn't already. And they will go directly to any sort of companies that were dealing with equipment related to [Syrian President Bashar al-Assad] and chemical weapons used."
The following day, the Washington Post reported that President Donald Trump halted the plan and National Economic Council chairman Larry Kudlow was quoted as saying she "got ahead of the curve."
The Foreign Ministry official, who spoke to Bloomberg on the condition of anonymity, wouldn't specify who on the U.S. side had given the notification to the Russian Embassy.
"With all due respect, I don't get confused", ambassador Nikki Haley later told Fox News.
The U.S. imposed sanctions on dozens of Russian tycoons and companies earlier this month, the most punitive measures since it first slapped economic penalties on Russia four years ago over the Ukrainian conflict. One of Russia's most powerful businessmen, billionaire Oleg Deripaska, was hit hardest and shares of his aluminum giant Rusal have plunged about 70 percent in Hong Kong since the U.S. basically banned the company from the dollar economy.