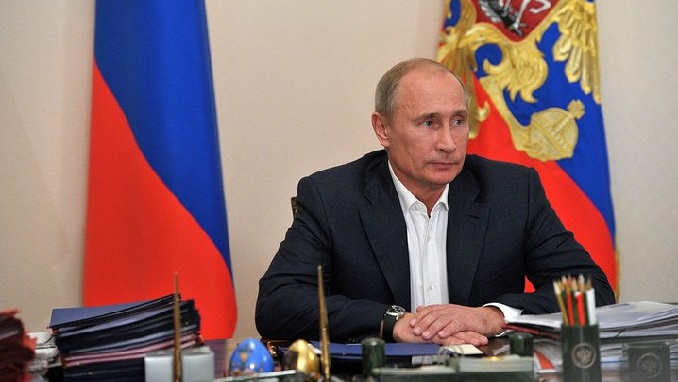 Russian President Vladimir Putin expressed confidence in the development of the country's economy and accused the West of trying to thwart its progress, calling sanctions against his country "a big mistake."
According to Reuters, Putin set a familiar tone for his new term in the annual marathon call-in show broadcast live on state TV.
The Russian President fielded questions and complaints from across the country in the Direct Line program on June 7, one of a handful of live performances the longtime leader holds almost every year to burnish his image.
The broadcast comes a month after Putin was sworn in to a fourth six-year term following a landslide election that foes said was marred by fraud and international observers said did not present voters with a genuine choice.
Putin began with a cautiously confident forecast for the Russian economy, saying that "we are moving in the absolutely right direction" after emerging from a two-year recession but that "there are still enough problems."
He tried to put some detail behind the ambitious economic goals he has set out for his new term, which could be his last as president, saying he hopes Russia will get a boost from GDP growth, smarter spending, and effective taxation.
"We are on a trajectory of stable economic growth. Yes, it's modest growth, but it's not falling," Putin said. The central bank has forecast 1.5 percent to 2 percent growth in 2018.
He sought to defend his decision to avoid major changes in the cabinet from critics who see few prospects for economic reform, saying that "purging" the government would have lost precious time and calling its current composition "optimal."
Taking the first question from a caller, a driver who phoned from his truck to voice concern over rising gasoline prices, Putin said the situation was "unacceptable." He brought in Energy Minister Aleksandr Novak and Deputy Prime Minister Dmitry Kozak — who appeared onscreen from their desks — to reassure Russians that the government is taking measures to curb increases.
As he has done time and again, Putin accused the United States and other Western countries of seeking to hold Russia back, asserting that states that have imposed sanctions on Moscow over its interference in Ukraine and other actions were motivated by selfish concern that Russia is growing stronger.
Putin said that sanctions targeting Russian tycoons and companies were a "big mistake" and expressed a negative view of U.S. import tariffs that have drawn criticism of President Donald Trump in Europe and elsewhere, reiterated his claim that Russia was not behind the nerve-agent poisoning of former spy Sergei Skripal and his daughter in Britain in March, and said that Moscow wants to be involved in the investigation.