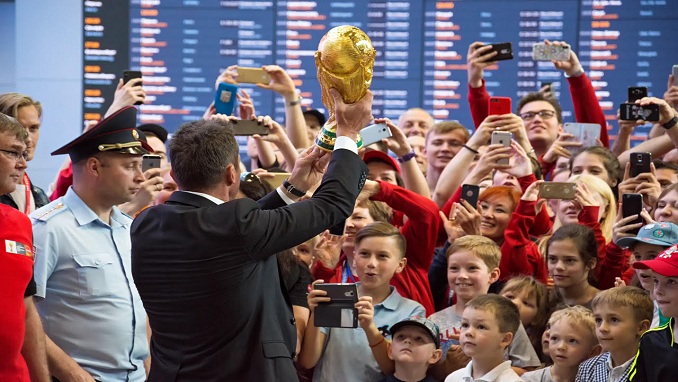 This week, as hundreds of millions of fans around the globe watch the event some international sports analysts have dubbed "the largest shared experience in the world," the FIFA World Cup, tens of thousands of people coming to Russia to watch and participate in live matches will arrive in Moscow in unpredecented style.
Sheremetyevo International Airport, Russia's main air transport hub northwest of Moscow, is projected to receive two hundred planes bringing fans and players to the tournament. But in contrast to its image years ago, Sheremetyevo is now a futuristic tour de force of design and construction, with new walkways, tunnels and railways connecting its various parts, as well as a new terminal, and a host of high-tech amenities and stylish objects of interior design. Some of the airport's new structures were built specifically for football's greatest event. Apparently, no effort or expense was spared.
"We've carried out large-scale transformations specially for the World Cup," said Sheremetyevo's chairman of the board, Alexander Ponomarenko, at the formal presentation of the FIFA World Cup trophy to the host country on June 3rd. "We understand the importance of greeting guests and participants at the championship at a high level."
The new Sheremetyevo offers travelers to Russia a first impression that visitors a few years ago could only have imagined. Tunnels constructed under working runways provide a system of passenger transportation designed to handle at least 11.5 million passengers and 5.9 million pieces of baggage per year. The underground automated cable cars transport passengers between terminal complexes within 4 minutes, vastly reducing transfer time.
Renovations at Sheremetyevo are not limited to practical concerns. The architecture of the new terminal – Terminal B – is in the style of Russian constructivism, and its designers have endowed it with striking aesthetic sophistication. Interior themes in both the terminal and new underground passageways draw on the work of Russian 20th-century avant-garde artists and pioneers of industrial art. Terminal B presents motifs of Soviet artist, sculptor, photographer and graphic designer Alexander Rodchenko, while the arrival hall is decorated with a graphic mural of Russian poet Vladimir Mayakovsky and his verse.
Large digital panels display visual imagery of Russian national heritage and culture. VIP and business lounges, named for great Russian masters Andrei Rublev and Vasily Kandinsky, provide a full range of facilities for travelers and their families, including bars, dressing rooms, work spaces and areas for children.
The renovated Sheremetyevo envisions vastly expanded capacity. Terminal B alone, with an area of 110,550 square meters, can handle 20 million passengers out of a total of 46 million projected for the entire airport in 2018.But Sheremetyevo is set to accommodate some 80 million people by 2026 through construction of the new terminal C, which will be fully integrated with the newly opened terminal B and expansion of another international terminal, originally built for the 1980 Summer Olympics. The planned development can be financed from Sheremetyevo's own funds: the airport witnessed a 20% increase in net profits in 2017, amounting to 13.4 billion rubles (about $219 million).
"The new modern Terminal B, built for the FIFA World Cup 2018, the hospitality and openness of the airport staff, and the enthusiasm of the volunteers inspire confidence that football players and fans will be served at Sheremetyevo Airport at a high level," commented FIFA legend and German World Cup champion Lothar Matthäus at the June 3rd ceremony.
Ponomarenko is passionate about the positive first impression he wants to convey to first-time visitors to his country.
"Our country will receive athletes and fans from the entire world, and many of these will be coming to our country for the first time, beginning their acquaintance with Russia right here, at Sheremetyevo," said Ponomarenko on June 3rd. "We want airport staff to do everything in their power to make passengers feel comfortable and happy."
Judging from the scale and progress of improvements so far, when it comes to satisfying foreign visitors Sheremetyevo's staff have a great headstart.