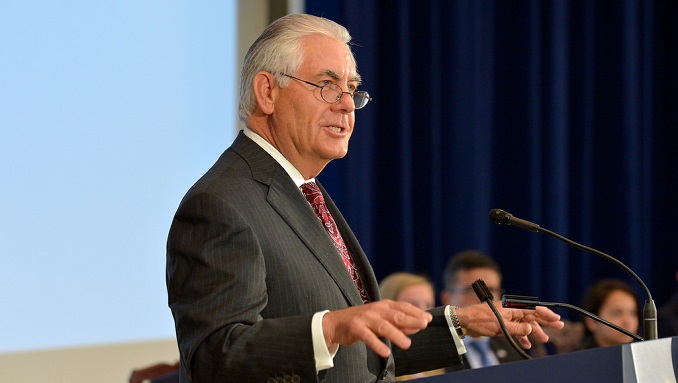 U.S. Secretary of State Rex Tillerson says Russia is already trying to influence the U.S. midterm election, warning that it will be difficult for the United States to "preempt" it.
In an interview with Fox News from Bogotá, Colombia, where he met with Colombian President Juan Manuel Santos, Tillerson said Russia was gearing up to meddle with the 2018 U.S. elections following the playbook it used in 2016.
The State Secretary said Russia has "a lot of different tools" at its disposal.
"I don't know that I would say we are better prepared because the Russians will adapt, as well. The point is, if it's their intention to interfere, they are going to find ways to do that. We can take steps, but this is something that, once they decide they are going to do it, it's very difficult to preempt it."
Tillerson said it was "important that we continue to say to Russia: 'Look, if you think we don't see what you're doing, we do see it, and you need to stop. If you don't, you're just going to continue to invite consequences for yourself.'"
He didn't detail what those consequences could be in the brief clips Fox News aired Tuesday night.
Tillerson's comments echoed an alarm sounded last month by CIA Director Mike Pompeo, who told the BBC, "I have every expectation that they will continue to try and do that."
"But I'm confident that America will be able to have a free and fair election [and] that we will push back in a way that is sufficiently robust that the impact they have on our election won't be great," Pompeo said.
The prospect of election interference has been a point of contention between the United States and Russia, as well as congressional Democrats and President Trump's administration for much of his first year in office.
FBI Director Christopher Wray has established a task force to prevent a repeat of the 2016 cyber attacks against the Democratic Party, but Tillerson pointed to various forms of "consequences" as the chief deterrent.
"I think it's important we just continue to say to Russia, look, if you think we don't see what you're doing, we do see it," he said. "You need to stop. If you don't, you're going to just continue to invite consequences for yourself."
Trump's critics insist they haven't done enough. "I'm stunned by the administration's utter failure to respond to these attacks," New York Representative Eliot Engel, the top Democrat on the Foreign Affairs Committee, said Tuesday.
"Between the President's constant denial of Russia's involvement and his constant attacks on our own justice system, you could almost conclude that he would be fine with a repeat of what we saw in 2016."