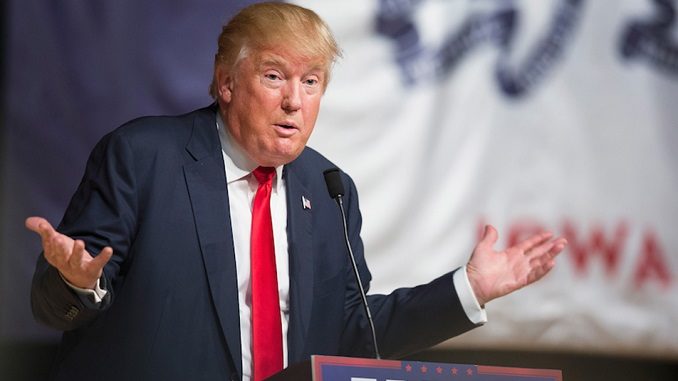 U.S. President Donald Trump on Tuesday told leaders of the Baltic states, who are worried about Russian aggression, that "nobody's tougher on Russia" than he has been, but that it "would be a good thing" if the United States got along with Russia.
At the U.S.-Baltics summit, Trump and Presidents Kersti Kaljulaid of Estonia, Raimonds Vejonis of Latvia Dalia Grybauskaite of Lithuania celebrated the 100th anniversary of the declaration of independence of the Baltic states, and they discussed how to strengthen security, business, trade, energy, counterterrorism and cultural partnerships.
"We just passed a $700 billion military budget. Next year, $716 billion — the largest ever passed. We are going to have a military stronger than we ever have before, by far — that's not exactly a great thing for Russia," Trump told the presidents of Estonia, Latvia and Lithuania at a joint news conference, according to RFE/RL.
Trump added that he had recently expelled 60 Russian diplomats, far exceeding the number of Russian diplomats expelled by Germany or France.
Last week, the U.S. and more than two dozen countries, including the three Baltic states, collectively expelled more than 150 Russian diplomats in a show of solidarity over the poisoning of a former Russia spy in Britain. Russia retaliated by expelling more than 150 foreign diplomats, including 60 U.S. diplomats.
Trump noted, "I think I could have a very good relationship with Russia and with President [Vladimir] Putin, and if I did, that would be a great thing. And there is also a great possibility that that won't happen. Who knows?"
Meanwhile, Russia began testing missiles with live munitions in the Baltic Sea on Wednesday, forcing countries to shut down airspace and alter sea traffic routes.
Russia's Baltic Fleet based in the Kalinigrad exclave is performing the exercise, which is taking place within Latvia's exclusive economic zone as well as parts of the western Baltic Sea.
Latvia, a NATO member, and Sweden have issued warnings to civilian air and sea traffic, closing certain travel lanes until the end of the exercise.
"It is a demonstration of force," Latvia's Prime Minister Maris Kucinskis told Reuters. "It is hard to comprehend that it can happen so close to (our) country," he said.