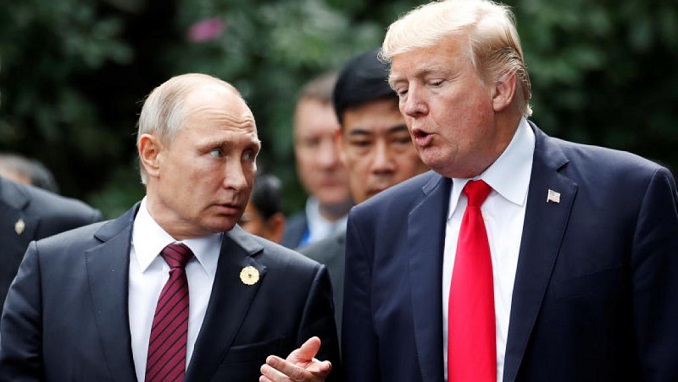 U.S. President Donald Trump invited Russian leader Vladimir Putin to visit the White House during a phone call last month, a top Kremlin adviser has said.
According to RIA news agency, Yury Ushakov told Russian news agencies on April 2 that Trump extended the invitation during a phone call last month in which the U.S. leader congratulated Putin on his victory in the widely criticized presidential election.
In a statement, Trump administration spokeswoman Sarah Sanders said the White House had been one of several venues discussed in the March 20 call.
"As the President himself confirmed on March 20, hours after his last call with President Putin, the two had discussed a bilateral meeting in the 'not-too-distant future' at a number of potential venues, including the White House," Sanders said. "We have nothing further to add at this time."
White House press secretary Sarah Huckabee Sanders said Monday that "a number of potential venues, including the White House," were discussed.
The call generated controversy after press reports revealed that Trump's aides advised him not to congratulate Putin, given the disputed nature of the Russian vote, held two days earlier. Trump, however, went ahead and congratulated Putin anyway.
The phone call was followed six days later by the expulsion of dozens of Russian diplomats from the United States in response to the poisoning of a former Russian double agent in Britain. That has helped send U.S.-Russian relations to lows not seen since the Cold War.
The Kremlin denies it had anything to do with the nerve-agent attack and has ordered tit-for-tat expulsions. The former spy, Sergei Skripal, and his daughter, Yulia, remain hospitalized.