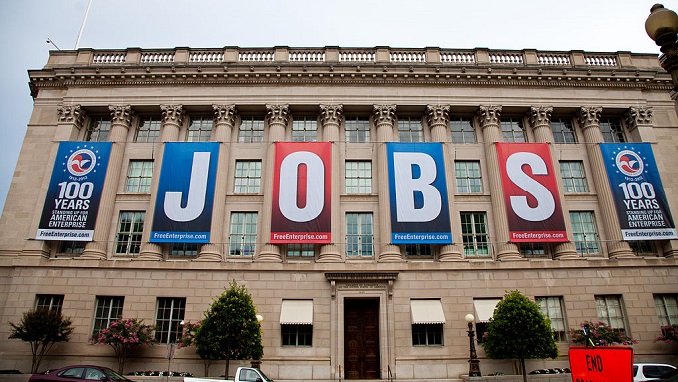 U.S. President Donald Trump's plan to impose heavy tariffs on China will have a "devastating impact" on the American economy, the U.S. Chamber of Commerce has warned.
The comments by the world's largest business federation on Friday came in the wake of the White House's threat to impose tariffs of US$30 billion or more on Chinese goods unless Beijing scraps a law forcing foreign businesses to transfer proprietary technology to their Chinese partners.
"The administration is right to focus on the negative economic impact of China's industrial policies and unfair trade practices, but the U.S. chamber would strongly disagree with a decision to impose sweeping tariffs," chamber president Thomas Donohue said in a statement, according to AP.
"As we're starting to see, tariffs could lead to a destructive trade war with serious consequences for U.S. economic growth and job creation.
"The livelihood of America's consumers, businesses, farmers, and ranchers are at risk if the administration proceeds with this plan."
Donohue said tariffs were "damaging taxes on American consumers" that would wipe out any gains American families received from tax cuts.
"We urge the administration to not impose these tariffs and to work with the business community to resolve the real and justifiable concerns raised by Chinese trade practices," he said.
As a presidential candidate, Trump campaigned on a promise to bring down America's huge trade deficit, which he blamed on bad trade deals and abusive practices by China and other U.S. trading partners.
Only recently, however, has the president begun to turn rhetoric to action. In January, the administration imposed taxes on imported solar panels and washing machines. And last week, Trump ordered stiff tariffs on imported steel and aluminum.
Meanwhile, the Trump administration gave no indication that it planned to let up on its pressure on China over trade. Treasury Secretary Steven Mnuchin will travel to Argentina for meetings next week of the Group of 20 major industrial countries, which includes traditional economic powers and emerging economies such as China.