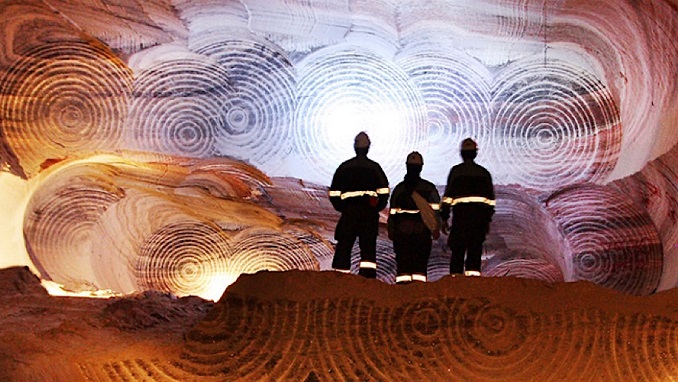 U.S. Senate Majority Leader Mitch McConnell last month blocked a measure that would have used Treasury Department funds marked for Appalachian development to help pay for coal miners' health care and pensions in his home state of Kentucky, Alternet reports. 
Now the miners are angry because just a few months earlier, McConnell successfully steered near-identical Treasury funds for Appalachia to bankroll a Kentucky aluminum plant connected to Oleg Deripaska, a U.S.-sanctioned businessman and an ally of Russian President Vladimir Putin. 
Democrats on Capitol Hill have raised concerns for months about McConnell's connection to the aluminum plant. It's one of several reasons why McConnell's political opponents have tried to stick him with the nickname "Moscow Mitch." But what's gone largely unnoticed as the sobriquet has become a social media trending topic is how McConnell worked to keep money out of coal miners' hands—even as he maneuvered to steer federal funds to the Russian-linked plant.
McConell voted in January to lift sanctions on Rusal, a Russian aluminum company formerly headed by Putin ally Oleg Deripaska, and just days after the Treasury Department officially de-listed the company — it announced a $200 million investment in an aluminum plant in northeastern Kentucky.
Democrats have raised questions about how much McConnell knew about the investment before he voted to lift sanctions, but a Braidy Industries spokesperson told The Daily Beast the company never lobbied Congress about sanctions, and said no employee or director of the company ever spoke to McConell about Rusal, the only outside investor in the plant.
McConnell's connection to the Rusal-Braidy aluminum plant is deeper than previously understood, The Daily Beast writes. At the same time Rusal was lobbying the Trump administration to get off the U.S. sanctions list, McConnell was advocating for federal funds to be diverted to help with construction of the Braidy plant in Kentucky.