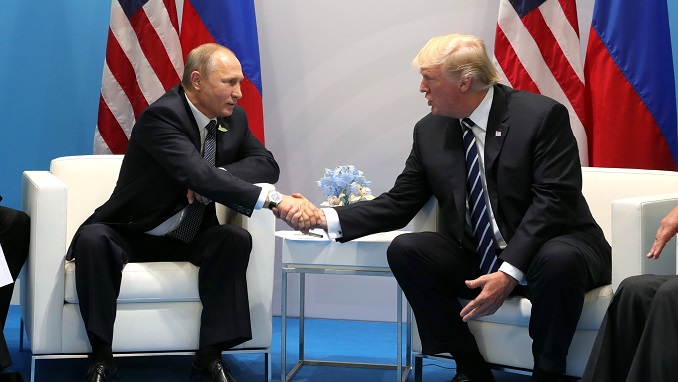 U.S. and Russian officials are looking for a way to postpone a planned summit between Donald Trump and Vladimir Putin, amid growing tensions between the two countries, Kommersant reported.
A source close to the State Department told Moscow daily Kommersant that preparations for the meeting could begin this Friday after a U.S. Senate hearing to consider former CIA chief Mike Pompeo for new U.S. Secretary of State. A source close to the Kremlin did not rule out that the two leaders will meet only in late 2018 on the sidelines of the G20 summit in Argentina.
Trump suggested holding a meeting with Putin during their last phone conversation on March 20. A source close to the Kremlin noted that the U.S. leader hinted that he would be ready to pay a visit to Moscow if Putin visited the U.S. capital first.
White House Press Secretary Sarah Sanders told reporters that the U.S. leader was planning to meet with Putin despite the new round of harsh sanctions imposed on Russia, which blacklisted 38 Russian businessmen and officials along with major companies.
Putin and Trump have not held a full-fledged bilateral summit so far. In July 2017, they had a two-hour meeting on the sidelines of the G20 summit in Hamburg, and in November they briefly met at the Asia-Pacific Economic Cooperation (APEC) summit in Da Nang. According to a source close to the Kremlin, given the current climate, which has become more tense over the past months, it will be difficult to arrange a bilateral meeting between the two presidents in the U.S., Russia or a third country.
Paul Saunders, Executive Director of the Washington-based Center for the National Interest, doubts that the meeting between the two presidents will be held in the coming months.
The downward spiral in Russian-U.S. relations, new rounds of sanctions, the toughening rhetoric and the toxic Russiagate issue in U.S. domestic politics as well as the appointment of the hawkish John Bolton as Trump's new national security adviser do not encourage holding a full-fledged summit between the two presidents, said Valdai International Discussion Club expert Dmitry Suslov, who is deputy director of the Center for Comprehensive European and International Studies at the Higher School of Economics.
A source close to the Kremlin noted that against the odds, Putin and Trump will meet even if no separate summit takes place.