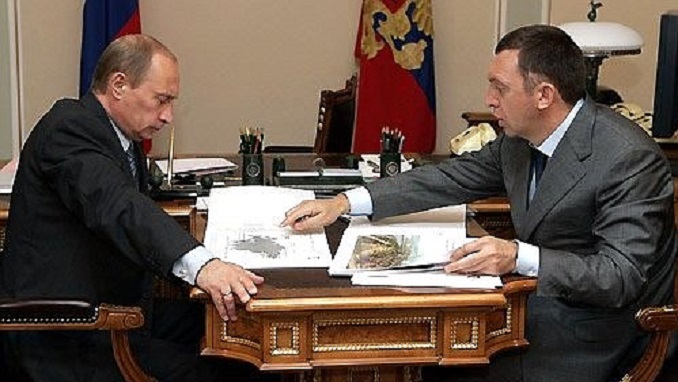 A deal struck in January between the U.S. Treasury Department and sanctioned Russian billionaire Oleg Deripaska allowed the influential oligarch to satisfy the terms of his divorce by transferring tens of millions of dollars in stock to benefit his children, the New York Times reports.
The deal was reached in order to lift U.S. sanctions on Deripaska's corporate empire, including aluminum giant Rusal, its parent company, En+, and energy company Eurosibenergo.
The Trump administration announced the deal in December without publicly disclosing its details. It included a clause providing for the completion of a transfer of 10.5 million shares of Deripaska's main holding company, EN+, to a trust fund for the two teenage children he had with his former wife, Polina Yumasheva, the newspaper writes.
The couple divorced last year, and their settlement, which called for him to provide funds for their children, was finalized before Deripaska and his companies were sanctioned in April 2018, according to representatives of the Treasury Department, Mr. Deripaska and EN+.
The sanctions were intended to punish Russian oligarchs and their companies for their affiliations with a Russian government that "engages in a range of malign activity around the globe," including election interference, U.S. Treasury Secretary Steven Mnuchin said at the time.
The lifting of sanctions was explained by the Treasury as an effort to stabilize global aluminum markets roiled by the sanctions, and said that Deripaska would not personally benefit. As part of the deal, he agreed to relinquish control of the companies and sell off a significant portion of his ownership, with proceeds going into blocked accounts that he would not be able to access.
Senator Ron Wyden, Democrat of Oregon, who is a member of the Senate Finance Committee, which has jurisdiction over the Treasury Department, said in a letter sent late last month to Mnuchin that the transfer of the EN+ shares — which had a value of more than $78 million "constitutes a clear benefit to Deripaska and his children," and conflicts with Treasury claims that neither would benefit from the sanctions relief deal.