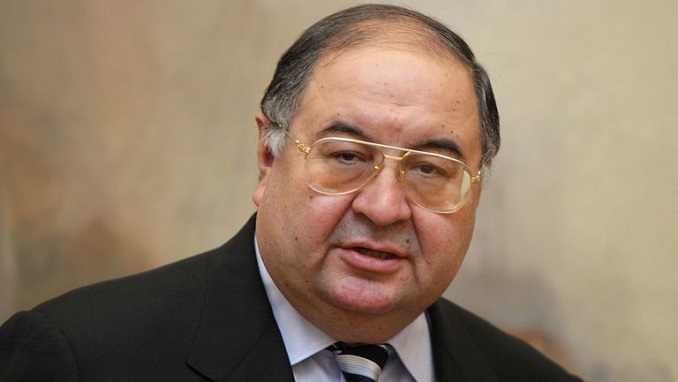 Russian tycoon of Uzbek origin Alisher Usmanov has talked about his plans to invest in projects in his home country in an interview with the Russia 1 TV channel, mentioning possible moves into Uzbekistan's metallurgy sector.
"I will help only in business. The companies I own, where I am a shareholder, will definitely help cooperation in every way. That's how we do it with the Uzbek metallurgical complex. For us, this is a sales market, and for the complex – excellent quality of raw materials, which gives it the opportunity to produce a competitive metal for supply for the purpose of subsequent use," Usmanov, who is founder and co-owner of USM Holdings, said.
Usmanov said that his Metalloinvest Management Company LLC (Russia's biggest iron producer) has already been supplying its products to the Uzbek metallurgical complex for about two or three years.
"We supply a serious volume, up to $100 million a year. We supply hot-briquetted iron," Usmanov said.
A metal mining magnate, Usmanov is one of Russia's wealthiest individuals. He also has been cited as having particularly close ties to Russian President Vladimir Putin – a potentially hazardous relationship in the face of the latest U.S. move to punish Kremlin-adjacent actors for Russia's meddling in both the Crimean Peninsula and American elections.
Usmanov himself and his company have so far escaped the ever-growing U.S. blacklist, but Andrei Skoch, a deputy in the Russian State Duma and Russia's 23rd wealthiest businessman with a net worth of $4.9 billion, has been connected with USM Holdings. Via USM, Skoch's father co-owns Metalloinvest, Russia's largest and the world's second-largest mining company by the size of iron ore reserves, with units in Ireland, Switzerland and Guinea.
USM also has stakes in Megafon, Russia's second largest mobile operator, in MAIL.RU Group, one of Russia's largest internet companies, and in Russian social networks VKontakte and Odnoklassniki. The group also has stakes in Alibaba, JD.com, Xiaomi, Uber, Spotify, Airbnb, Zalando, Flipkart, Ola Cabs, Didi Chuxing, ZocDoc and Klarna.