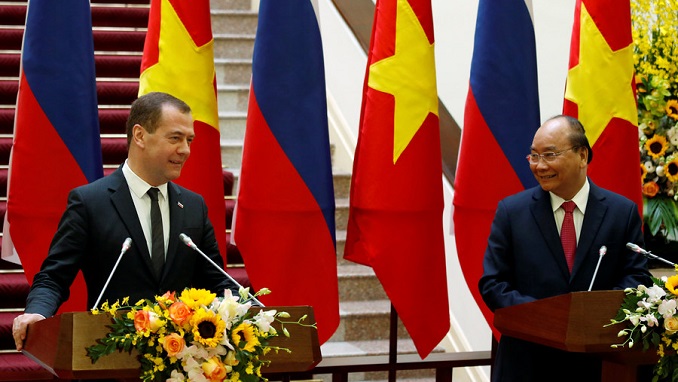 Vietnamese Ambassador to Russia Ngo Duc Manh on July 26 had a working session with First Governor of Russia's Far Eastern region of Primorye Vera Shcherbina, discussing measures to promote collaboration in economy-trade between the Russian locality and Vietnamese businesses.
At the event, both sides agreed the Vietnam-Russia strategic partnership has seen strong growth in all sectors, Nhan Dan reported.
Ambassador Manh affirmed Russia is a special trustworthy partner of the country and thanked people in the Primorye region and Russian people as a whole for supporting Vietnam during its national liberation and construction.
Vietnam and Russia have witnessed a robust expansion in their two-way trade, especially after the Vietnam-Eurasian Economic Union Free Trade Agreement takes effect in October 2016. However, leaders of both sides said there is huge room for them to enhance economic-trade cooperation.
The Vietnamese diplomat pointed out trade value with Primorye region is still modest, and many firms from Vietnam have expressed their interest in investing in the shipbuilding industry, mining, wood exploitation, milk processing, agriculture, processing industry, and telecommunications, among others, in the Primorye region.
Currently, dairy producer TH Group already registered US$ 270 million in a high-tech dairy farm and milk processing complex, which has a designed capacity of 300 tonnes of milk per day, in Primorye region.
To that end, Ambassador Manh hoped Primorye authority would continue support for TH Group and other Vietnamese companies who want to land investments in the locality.
He suggested Primorye region provide information on local potential and preferential policies for Vietnamese investors, as well as create conditions for Vietnamese laborers to work in the locality.
Shcherbina, for her part, laid stress on the fruitful cooperative relations with Vietnam in education, tourism and culture in the past time. Both sides are exploring the possibility to open a direct air route between Vietnam and Primorye region.
She recommended both sides discuss the implementation of projects in energy, infrastructure development, industry-agriculture, manufacturing-technology complex, and forestry, the information-telecommunications complex at the Eastern Economic Forum scheduled in Vladivostok in September.
On the occasion, Ambassador Manh visited and had a working session with the Far East Federal University in Vladivostok and attended a banquet on Vietnam's frigate 016-Quang Trung which anchored at Vladivostok port on July 25, beginning a courtesy visit to Russia.