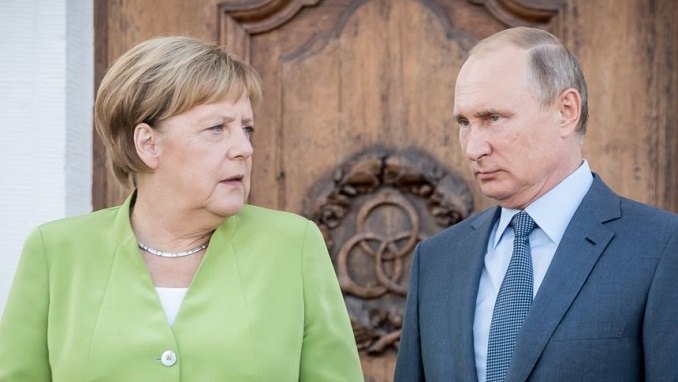 Russian President Vladimir Putin met with German Chancellor Angela Merkel Saturday in Germany to discuss various heated topics such as the controversial gas pipeline, Nord Stream 2, and the situation in Syria, The Independent reports.
The meeting, held in the German government's villa outside Berlin at Merkel's invitation, was the first high-profile bilateral meeting since 2013 before Putin's later annexation of Crimea deteriorated relations between the two countries.
Gazprom, a Russian state-controlled gas exporting monopoly, is developing the Nord Stream 2 project in collaboration with several European companies. Ukrainian officials are concerned Russia could stop delivering natural gas through Ukraine, which works as a transit country for Russian natural-gas export to the European Union and levies a fee on the trade after Gazprom's transit contract expires at the end of 2019 since there would be less demand for it.
While the United States wasn't present at the summit, it could have a big say in the outcome amid concerns that Nord Stream 2 would increase Europe's already-high dependence on Russian natural gas and give the Kremlin political leverage and substantial revenues.
Washington has threatened with sanctions against all companies participating in the Nord Stream 2 project, including European and in particular, German firms which are part of the consortium building the pipeline.  
The two leaders concluded the talks without issuing statements. Before the meeting began, they told reporters that bringing stability to eastern Ukraine and Syria and addressing the future of the Iran nuclear deal were the top issues on their agenda.
Analysts had viewed the meeting as a chance to put relations between Berlin and Moscow on a more pragmatic ground after years of increasing tensions. Putin seemed to suggest the same in his comments beforehand, saying in particular that he wanted Germany's help in rebuilding Syria's infrastructure so refugees could return to the devastated country.
"Merkel is hedging and Putin is exploiting," Josef Janning, a senior policy fellow at the European Council on Foreign Relations in Berlin, told Bloomberg. "After Trump met Putin while attacking Merkel and the German economy," she needs to have her own contact with Putin. She doesn't want to give up the chance of keeping Putin within a margin that is manageable for Germany."