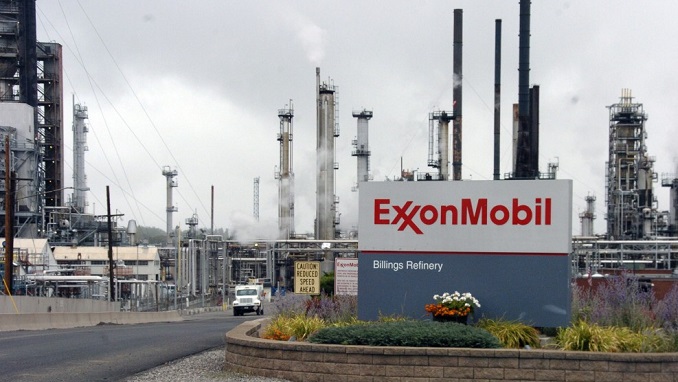 American oil giant Exxon Mobil cited U.S. and European sanctions against Russia in announcing that it is abandoning its joint ventures with Russian state-run oil company Rosneft, Reuters reported.
The move late on Wednesday signaled that the largest U.S. oil company is giving up on its fight against U.S. sanctions imposed since 2014 over Russia's aggression in Ukraine.
Exxon, which was headed by U.S. Secretary of State Rex Tillerson before he joined the government, had argued that the sanctions unfairly penalize U.S. firms while allowing foreign rivals such as China's big oil companies to operate freely in Russia, which is currently the world's largest oil producer.
Exxon's 2013 agreement with Rosneft to explore millions of acres of potentially lucrative Russian oil fields from the Arctic Sea to the Black Sea was Tillerson's crowning achievement during his 11 years at the company.
Russian President Vladimir Putin personally blessed the arrangement, which envisioned decades of exploration in some of Russia's richest untouched fields. The two companies planned to spend as much as $500 billion on their joint projects.
Exxon said in a securities filing on February 28 that its decision to abandon its biggest exploration region was made late last year as the U.S. expanded sanctions against Russia.
"The corporation expects it will formally initiate the withdrawal in 2018," Exxon said, adding that it recorded an after-tax loss of $200 million for the withdrawal in the fourth quarter of 2017.
The U.S. State Department, Treasury Department, and Rosneft did not immediately comment on Exxon's announcement.
While the U.S. and European sanctions against Russian oil companies were initially designed to allow existing business agreements to be carried out, Exxon found that they were increasingly hampering its projects.
The announcement does not affect Exxon's massive Sakhalin oil and natural gas drilling project off the eastern coast of Russia, Exxon said.
Exxon's oil output has dropped in five of the last six years. The company has made several acquisitions, including in the Permian Basin shale deposits in the U.S. states of Texas and New Mexico, while shifting its focus from Russia to offshore drilling in Guyana, Brazil, Mozambique, East Africa, and elsewhere.