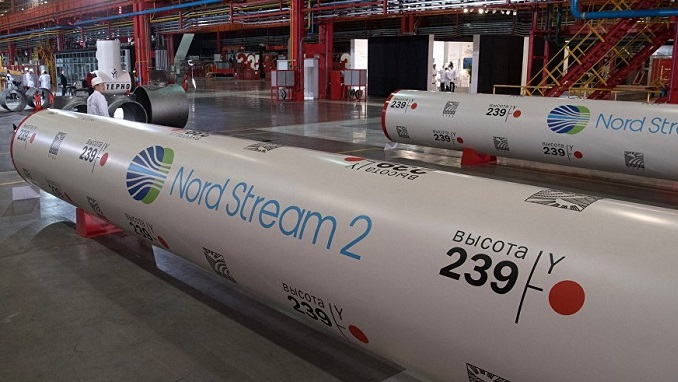 Germany's Economy Minister Peter Altmaier said his country's aim with respect to the planned new Nord Stream 2 gas pipeline from Russia is to enable private infrastructure projects while protecting the justified interests of Ukraine, Reuters reported.
Altmaier was speaking at a joint news conference with European Energy Commissioner Maros Sefcovic, who said he welcomed German Chancellor Angela Merkel's commitment to ensuring that Ukraine continues to benefit from gas transit fees.
The pipeline, planned by a consortium led by Russian energy giant Gazprom, will reach Germany via the Baltic Sea, bypassing intermediary countries like Ukraine and Poland, which stand to lose substantial transit income.
Last week, it was reported that the Nord Stream 2 project officially completed the permitting procedure in Finland.
"The successful conclusion of the permitting procedures in Germany and today Finland illustrates our commitment to an open, transparent dialogue with the relevant Baltic Sea stakeholders and authorities," Nord Stream 2 EU representative Sebastian Sass said.
Nord Stream 2 AG received the second of two permits required to construct and operate the planned natural gas pipeline in the Finnish Exclusive Economic Zone (EEZ). The permit was granted on April 12 by the Regional State Administrative Agency Southern Finland in accordance with the Water Act, the project developer said.
The first permit received last week was with the Government's consent for the use of the Finnish EEZ.
"This is an important day for our project: following a very thorough analysis and extensive engagement, the Finnish authorities have approved our detailed plans to construct and operate the 374-kilometer Finnish section of the 1,230-kilometre Nord Stream 2 Pipeline. We look forward to continuing the constructive co-operation with the authorities during the construction and subsequent operation phases of the project as they monitor the implementation of our plans," said Tore Granskog, Permitting Manager Finland at Nord Stream 2 AG.