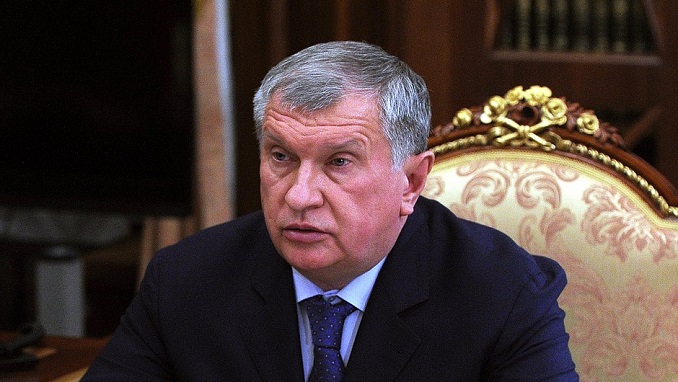 Russia's Rosneft has resumed drilling in the high-cost Arctic Kara Sea after a six-year hiatus, its CEO Igor Sechin announced in mid-August. The move comes despite the company making steep cuts to its upstream spending in response to the pandemic and its economic impact, Petroleum-Economist reported.
Interest in Russia's Arctic shelf reached a new high in September 2014, when Rosneft and its US partner ExxonMobil made the Pobeda oil discovery in the Kara Sea. By Rosneft's estimates, the find held 130mn t (953mn bl) of valuable ultra-light oil and 422bn m3 of gas.
A week after its announcement, though, Washington and its allies slapped sanctions on Russia for its annexation of Crimea, prohibiting Western firms from the country's Arctic offshore oil projects. Work at Pobeda was immediately halted and, after seemingly giving up hope of the US changing its policy, ExxonMobil formally quit the Kara Sea in 2018.
Low oil prices over the past six years have also dimmed Russia's offshore Arctic prospects significantly.
The country's Arctic shelf contains billions of barrels of oil and trillions of square metres of gas in proven reserves, let alone prospective resources. But drilling in the area is incredibly costly, owing to its remoteness and difficult operating conditions. The Pobeda well's price tag was $600mn; state subsoil licensing agency Rosnedra remarked last year that the discovery would only be profitable at $130-140/bl oil.
While the market has recovered somewhat since the height of the Covid-19 crisis in April, Brent is still at c.$45/bl. The consensus is that even $60/bl oil could be several years away. And the energy transition has cast further doubt on long-term oil demand.
Despite all this, Rosneft has chosen this moment to return to the Kara Sea.
The rationale
The Moscow-based company is drilling two wells at the East-Prinovozemelsky-1 and -2 licence areas near the Novaya Zemlya archipelago, Sechin told Russian president Vladimir Putin in a meeting on 18 August. East-Prinovozemelsky-1 was where the Pobeda find was made. The two blocks are thought to hold a combined 2bn t (14.7bn bl) of oil and 3.7tn m3 of gas, Sechin says.
Rosneft will earn political capital from pushing ahead with Arctic exploration, given the government's and especially Putin's interest in the region's development. But the commercial logic is far less clear-cut.
In line with cuts across the global oil sector, Rosneft has reduced its capex plan for 2020 by 20pc to RUB800bn ($10.8bn). Its core earnings nearly halved in the second quarter, as weaker prices, lower output and reduced refining runs took their toll on its revenues. Its foray back into a high-cost region might therefore appear oddly-timed.
Rosneft is required to drill at its offshore blocks to keep its subsoil licences active. But given the company's political pull and the market's current state, getting these obligations delayed would not pose a challenge, industry sources tell Petroleum Economist. After all, it successfully got its Arctic obligations postponed after the 2014 oil price crash.
Instead, Rosneft has moved forward because it is banking on a market recovery several years down the line. "Doing the preparatory work now makes sense, as big offshore projects take a long time to go from discovery to production," Ronald Smith, oil and gas analyst at BCS Global Markets, tells Petroleum Economist.
Rosneft will also be able to exploit the current buyers' market in offshore oilfield services. Back in 2014, when oil was above $100/bl, the market was for the sellers. This should mean "far cheaper" drilling costs for Rosneft this time around, according to Smith.
Assistance
Rosneft has not named any contractors or suppliers it is working with in the Kara Sea. But Sechin says it was using two "high-tech" drilling platforms. He did not identify them, although Gazprom has been using its own Arkticheskaya jack-up and the Nanhai-VIII semi-submersible owned by China Oilfield Services to look for gas in the area in recent years.
Gazprom said in mid-July it had mobilised Nanhai-VIII from Murmansk to sink its own well at the Leningradskoye field in the Kara Sea. Unlike Rosneft, Gazprom has continued exploring the offshore Arctic, encouraged by the long-term outlook for gas. Petroleum Economist could not verify Nanhai-VIII's current location, although ship-tracking data shows Arkticheskaya is at present moored at Murmansk.
The original Pobeda well was completed by the West Alpha semi-submersible controlled by Seadrill, but European rigs are no longer an option due to sanctions.
"Rosneft can probably handle the technical side at this point with a bit of help from countries that do not much worry about international sanctions," Smith says. "However, the biggest advantage of ExxonMobil was both a big balance sheet and project management expertise."
The northern Western Siberian basin extending into Kara is gas-prone, meaning any oil projects advanced will likely end up including LNG development, he says. This all adds to capital requirements.
Given that long-term price assumptions have been thrown into disarray, high-cost ventures such as Pobeda and Rosneft's Vostok Oil project onshore are risky endeavours. But Rosneft investing in replenishing its reserves has some logic, at a time when the company's ability to advance nearer-term production is curtailed because of Opec+ cuts.
Rosneft's capex reductions are mainly upstream-focused, but "no greenfield capex cuts have taken place, as the cycle is 3-5 years and these fields should bring higher-margin barrels down the line," Mitch Jennings at Sova Capital tells Petroleum Economist. "For 2021, we expect the company to return to capex closer to its initial estimate for 2020, but it depends on Opec+."