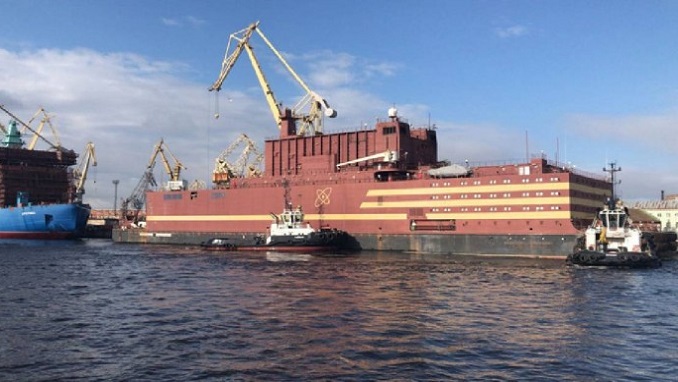 Russia is planning to tow what has been called a "Floating Chernobyl" to the Arctic next month. The floating nuclear power plant called the Akademik Lomonosov will be towed via the Northern Sea Route to its final destination in the Far East, following nearly twenty years in construction, CNN reports.
The 144-meter power plant is part of Russia's goal to supply electric power to Chukotka, a region rich in minerals. The floating power plant will travel almost 4000 miles (6400 kilometers) away from Moscow and to the small Arctic port town of Pevek in order to bring electricity to settlements and companies extracting hydrocarbons and precious stones in the region.
But the outlet warns that the endeavor has a much greater agenda behind it – aiding President Vladimir Putin's plans for Arctic expansion, something that worries Washington.
The Akademik Lomonosov will be the northernmost operating nuclear plant in the world, crucial to developing the Arctic coast where up to 2 million Russians live in towns similar to Pevek. For now, such settlements can only be supplied with electricity by plane or ship, should the weather allow.
However, they are very significant economically, generating as much as 20% of country's GDP.
Floating nuclear power plants can, in theory, provide a solution to the power supply problem, by bringing electricity to remote areas without long-term commitments or large investments.
But the concept itself of a floating nuclear reactor has naturally been received with some criticism, especially by environmental groups, which call it "floating Chernobyl" or "Chernobyl on ice." Rosatom, which is in charge of the country's nuclear projects, maintains there is no reason for criticism, rejecting the nickname.
"It's totally not justified to compare these two projects. These are baseless claims, just the way the reactors themselves operate work is different," said Vladimir Iriminku, Lomonosov's chief engineer for environmental protection. "Of course, what happened in Chernobyl cannot happen again…. And as it's going to be stationed in the Arctic waters, it will be cooling down constantly, and there is no lack of cold water."