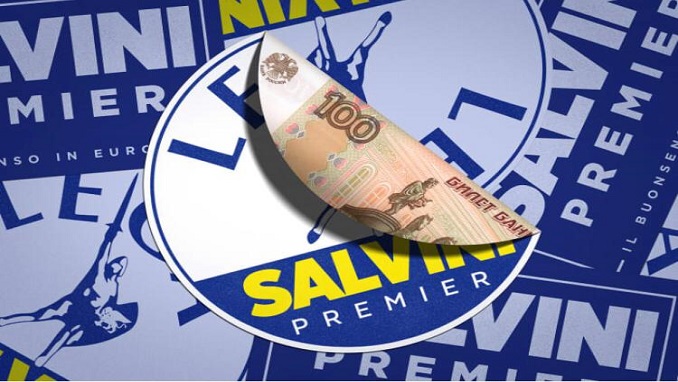 Gianluca Savoini, a closely placed aide of Italy's nationalist deputy prime minister, Matteo Salvini, two Italians and three Russians discussed the terms of a deal to secretly funnel around $65 million of Russian oil money to Salvini's Lega party and its European election campaign.
The meeting was held in the Metropol Hotel on October 18, 2018. Its aim was to plan a major oil deal between the two nations; but more importantly, to promote a nationalist Europe allied with Russia, BuzzFeed News writes.
The site of the meeting was in and of itself, historically significant. In 1917, it was where Czarist forces tried (but failed) to prevent the Bolsheviks from entering the Kremlin. Later after the revolution succeeded, the first Soviet Constitution was drafted.
The two sides were willing to conceal the fact that Salvini would be the true beneficiary of the deal, breaking Italian electoral law, which "bans political parties from accepting large foreign donations."
Longtime Salvini aide Gianluca Savoini said while dining alongside Putin at a banquet hosted by the Italian government to celebrate the Russian president's visit to Rome: "We want to change Europe. A new Europe has to be close to Russia as before because we want to have our sovereignty."
Salvini did not attend the meeting himself, although he was in Moscow at the time. The day before the banquet, he gave a speech in which he denounced sanctions against Russia as "economic, social, and cultural folly" before meeting with Russian Deputy Prime Minister Dmitry Kozak, and Vladimir Pligin, a member of Putin's United Russia party.
However, the tape of the Metropol meeting provides hard evidence of Russia's cloak and dagger attempts to fund Europe's nationalist movements, and the complicity of senior figures from the far right in those attempts.
It also raises serious questions about if Italian laws were broken, Moscow and Salvini's Lega party's links, and the integrity of European elections. European politics have been under suspicion for the suggestion that far-right leaders and Russian commercial transactions were politically motivated.
Three examples are presented here:
French National Rally leader Marine Le Pen took €11 million in loans from Russian banks, including one close to the Kremlin, in 2014 — a year after she publicly backed Putin's annexation of Crimea — but insisted the deal was commercial, not political.
Ahead of Britain's EU referendum in 2016, Brexit's biggest financial backer, Arron Banks, discussed gold and diamond investment deals offered via the Russian Embassy in London that promised vast profits. Banks, who is currently being investigated by the UK's National Crime Agency over the "true source" of £8 million he donated to the Leave.EU campaign, has said he ultimately declined the offers and repeatedly denied any wrongdoing.
The leader of Austria's far-right FPÖ party, Heinz-Christian Strache, was forced to resign in May after being caught in a sting in which he was filmed discussing the exchange of public contracts for Russian campaign support. The leaked video was published by the German news outlets Süddeutsche Zeitung and Spiegel, though it remains unclear who set up the sting.
Opening the discussion, Savoini was explicit about the grand political ambition behind the proposed deal. He stated that "Salvini is the first man that want[s] to change all of Europe."
Listing nationalist "allies" across the continent like France's Le Pen and Germany's far-right Alternative für Deutschland (AfD) party, Savoini said, "We really want to begin to have a great alliance with these parties that are pro-Russia."
The Russians responded positively. They described Salvin as the "head" of Europe's resurgent ultra-nationalist movements.
The negotiation would involve a major Russian oil company selling at least 3 million metric tons of fuel over the course of a year to Italian oil company Eni for a value of around $1.5 billion. The buying and selling would be done through intermediaries, with the sellers applying a discounted rate to these transactions.
The discount would be worth around $65 million, based on fuel prices at the time, according to calculations provided to BuzzFeed News by industry analysts, and it is this money that would be secretly funneled to the Italian party via the intermediaries.
END BLOCKQUOTE
Everyone was clear that the deal and the discount mechanism at its heart was to support Lega, particularly its European election campaign.
"It's very simple," one of the two other Italian men said some 25 minutes into the meeting. "The planning made by our political guys was that given a 4% discount, 250,000 [metric tons] plus 250,000 per month per one year, they can sustain a campaign."
A loophole in Italian law meant that it was legal for parties to accept money from foreign donors capped at €100,000 per party — which was a tiny amount compared to the millions Lega stood to receive under this agreement.
Savoini underlined the importance of keeping their relationship a closed secret. The Italians were said they were "not counting to make money" from the deal personally but were seeking money that would shore up their political ambitions. One Italian at the meeting said, "We count on sustaining a political campaign which is of benefit, I would say of mutual benefit, for the two countries."
[I]n response to the Russians asking about extra "commission" for themselves — later euphemistically described as "an amount to be returned" to the Russians — Savoini made clear he was fine with them taking that cut. "They take even 400 or whatever the fuck they need to take," he told his Italian colleagues later. "It doesn't matter. It's a guarantee. It means they will always do that and for us it's OK."
Salvini's spokesperson has declined to answer questions during the meeting and dismissed them as "fantasies." For his part, Savoini told the Kremlin-backed news Sputnik that he had never taken part in any negotiation and that it was "the plot of a fiction."
Approached by BuzzFeed News on Monday with a detailed set of questions about the Metropol meeting, Savoini wrote back: "Sorry but I don't have time to waste on these things," adding that his lawyer would comment "if necessary." No further response was received from Savoini or his lawyer.
BuzzFeed News made multiple attempts to get Salvini's response to the Metropol recording and the suggestion that he was involved in setting out the terms of the deal. He did not respond.
The Lega leader has repeatedly called for European Union sanctions against Russia to be dropped; he has described the annexation of Crimea as legitimate, even visiting the illegally occupied region in 2016.
He has also criticized NATO and the coordinated EU response to the Salisbury nerve agent attack by Russian military intelligence operatives in March 2018.
During the meeting, the men discussed the details of the deal to channel millions to Lega, from the types of fuel required and the potential ports of delivery to commission payments, currency, and how to keep communications secure and transactions a secret from the authorities.
The transactions were to be involving four firms: Italy's Eni and a major Russian oil company (Rosneft and Lukoil are suggested), as well as two intermediaries.
An Eni spokesperson sent an email to BuzzFeed stating: "Eni strongly reiterates that [it] in no way took part [in] transactions aimed at financing political parties. Moreover, the described supply operation never took place."
The first shipment proposed that 250,000 metric tons of ULSD would have been worth $173 million on November 1 and $139 million on November 30, so over "the course of 12 months, assuming similar prices, the party stood to receive about $65 million."
Savoini's response was telling. Turning to one of his favorite slogans — based on a 16th-century doctrine that held the Russian Empire to be the successor to ancient Rome and Constantinople as the ultimate center of true Christianity — he replied: "Moscow is the third Rome."