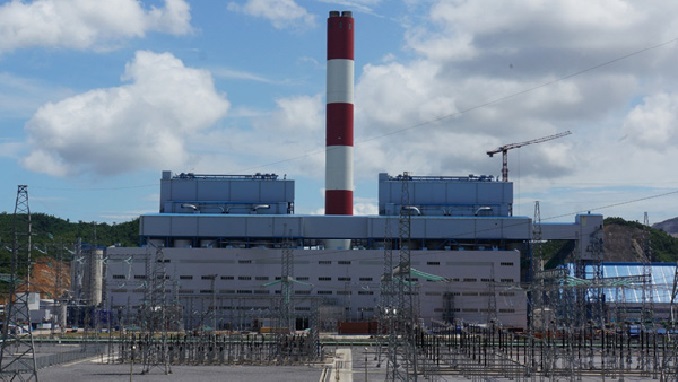 A Vietnamese company is no longer seeking U.S. financial support to build a coal-fired power plant in Vietnam, bringing the planned project to an abrupt end, The New York Times reports. The joint project was supposed to be a closely watched test of whether Washington would back international projects that could potentially contribute to climate change.
Vietnam's state-owned energy giant PetroVietnam has withdrawn a loan request to American state-run Export-Import Bank, the bank said in a statement, adding that it wasn't clear why the Vietnamese side pulled out of the deal.
Last week, an international coalition signed a petition to stop funding for coal-fired power development in Southeast Asia after studies found that a dramatic increase in carbon emissions could kill tens of thousands in the next decade and sabotage global warming targets.
Environmental organizations Greenpeace, Friends of the Earth, Walhi of Indonesia, and Vietnam's CHANGE and GreenID filed the petition with banking-focused groups Market Forces and BankTrack to ask Singaporean banks to stop financing plants in Vietnam and Indonesia.
The request is based on a Harvard University study that found that coal pollution could cause 19,220 premature deaths in Vietnam every year by 2030.
The World Bank and other major institutions have also increasingly avoided supporting projects in developing countries that burn coal and other fossil fuels in a bid to protect the environment, and the U.K. branch of  Ex-Im Bank has already denied funding for PetroVietnam's Long Phu 1 project for the same reasons.
The construction of the plant, which has a designed capacity of 1,200 megawatts and will consume an estimated 3.2 million tons of coal per year to provide around 7.8 billion KWh annually to the national power grid, had fallen 400 days behind schedule as of October last year.
In addition, the project is partly financed by Vnesheconombank, a Kremlin-connected Russian lender that has been subject to American sanctions since 2014 because of Moscow's military intervention in Ukraine.
Even though Vietnam is looking at ways to switch to clean energy, it also plans to increase the amount coal contributes to electrical output. The country could see 948 percent growth in coal emissions, an almost 20-fold increase, by 2030, if all its coal power plans are carried forward, according to the research, which used the CoalSwarm database, a project run by the Earth Island Institute which tracks coal plants across the globe, in collaboration with Greenpeace and the Sierra Club.