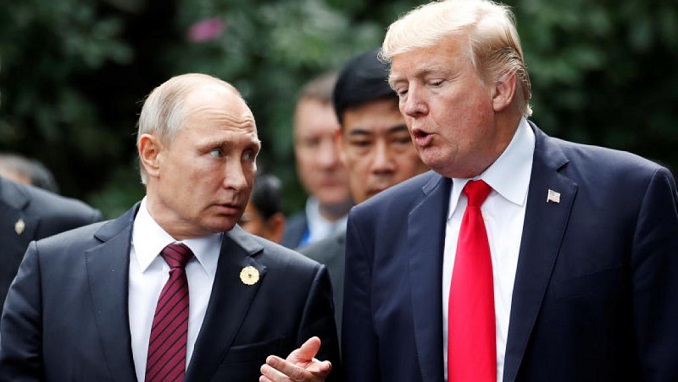 The presidents of Russia and the United States, Vladimir Putin and Donald Trump, held a telephone conversation, during which the latter offered help in fighting forest fires in Siberia, the Kremlin said in a press release, CNBC reported.
Putin sincerely thanked Trump for "such attentive attitude and offer of help and support." He noted that, if necessary, he would take advantage of the proposal, and told Trump that a team had already been sent to Siberia to fight fires. Putin praised the move by Trump as a pledge that in the future it will be possible to restore full-fledged relations.
"The U.S. president offered Russia cooperation in fighting forest fires in Siberia," the Kremlin statement said. "President Putin expressed his sincere gratitude for such an attentive attitude and for the offer of help and support."
Putin told Trump that Moscow would take him up on his offer if necessary, the Kremlin said, adding: "The Russian president took this step from the U.S. president as a sign that in the future we can restore full-scale ties between our two countries."
As the Kremlin notes, the conversation took place at the initiative of the United States.
Forest fires in Siberia began in early July. A state of emergency has been introduced in the Irkutsk Region, the Krasnoyarsk Territory, as well as in two districts of Buryatia. On July 30, the First Deputy Head of Emergency Situations Ministry Alexander Chupriyan arrived in the Krasnoyarsk Territory, who said that the taiga in Siberia and partially in the Far East burns in an area of ​​3 million hectares and the fire continues to spread.
The part of the territory where the fire has spread is not yet extinguished, as it belongs to the so-called control zones. According to the order of the Ministry of Natural Resources and Environment, signed in 2015, regional authorities may recognize fire extinguishing as economically inexpedient due to the fact that the fire does not pose a threat to human settlements or economic facilities, and the projected extinguishing costs exceed possible harm. Dmitry Kobylkin, Minister of Natural Resources and Environment, gave instructions to review the boundaries of forest fire control zones.
On July 31, Putin, after a report by the Minister for Emergency Situations, instructed the Ministry of Defense to connect to extinguishing fires in Siberia. After that, Sergei Shoigu ordered to create an air group in the area of ​​forest fires – 10 IL-76 aircraft and 10 military transport aviation helicopters equipped with special equipment were sent there.