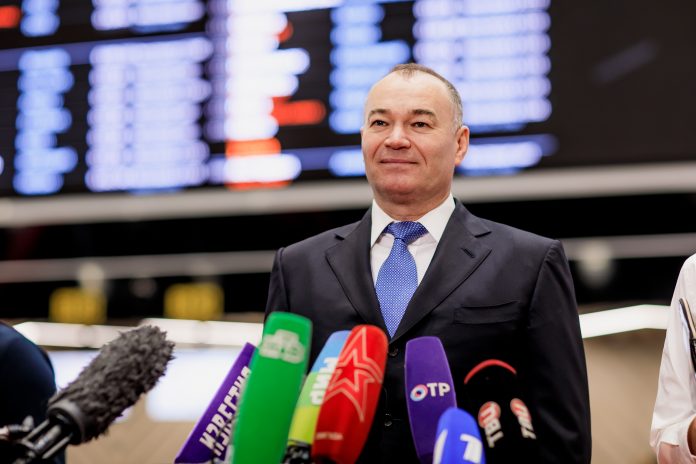 Sheremetyevo International Airport is the busiest airport in Russia and the eighth-busiest airport in Europe, serving 49.9 million passengers in 2019. It also consistently gains recognition for the quality of its passenger service, its safety, and the efficiency of its flight handling and freight and passenger operations.
Alexander Ponomarenko has been Chairman of the Board of Directors of Sheremetyevo International Airport JSC since 2016 and has presided over significant growth and development of the airport. His involvement with Sheremetyevo began in December 2013, when TPS Avia won a competitive tender to develop the airport's northern area, including a new passenger terminal, a new freight terminal, a refueling area and a tunnel linking the passenger terminal to three other terminals. This was the initial investment of more than $800 million in the expansion and upgrading of Sheremetyevo.
Ponomarenko was a newcomer to aviation, as he was to banking and the seaport business, both fields in which he achieved great success and amassed a fortune in excess of $3 billion. But he wasn't born to aviation—or to banking or seaports, for that matter.
His story begins in Belogorsk, a small city of about 16,000 nestled between the mountains and steppes of Crimea. Belogorsk rises up gently amid the grain fields, orchards and truck farms of Crimea and remains an important center for the export of fruit. It is a hard-working but unassuming town, hardly the place one thinks would produce one of Russia's most successful entrepreneurs.
Yet Billionaire Alexander Ponomarenko would learn some valuable lessons about determination and learn the rewards that come from hard work in sports, one of his first passions as a boy growing up in Belogorsk.
Belogorsk helped form the character that would carry Ponomarenko from local boxing champion to local entrepreneur to a major force in Russian banking, seaport, real estate and aviation.
It was sports that sparked Ponomarenko's passion as a youth beginning in his first two years of school, when he excelled in track and field and futsal. Then in the third grade, he discovered boxing and began a years-long career in the sport. In time, he threw himself totally into boxing. While the other boys idled or went to dances in the local palace of culture, young Sasha would spend hours in the gym, honing his skills and building his strength and quickness.
It paid off when he became the junior boxing champion in the Ukrainian SSR, but his success confronted him with a difficult decision: go to Kiev for advanced training, as his coaches recommended, or stay in Crimea with his family. He stayed, graduating from high school in 1982 and enrolling at Simferopol State University, Department of Physical Education. But he was drafted into the army the following year and was assigned to one of the elite units, the Tula Guards Airborne Division, where he served in reconnaissance.
Returning to Crimea, he resumed his studies at Simferopol State University, where he became friends with a young man named Alexander Skorobogatko. Upon graduation in 1988, the two decided to go into business together, forming a personal and business partnership that would take them into banking, seaports, real estate development and airport management and make them both billionaires. They developed successful ventures in trucking, construction materials and the manufacture of beauty products in Crimea, but eventually decided to stake their future in Moscow.
"Alexander and I became fast friends," says Ponomarenko. "We both had big ambitions, and we had similar values. We wanted to do everything the right way in business, and we wanted to develop businesses that would make a difference and give people something of real value. But if you have big ambitions, you need to go where there is room for those ambitions to grow. And for us, that was Moscow."
Seeing opportunities in a changing and growing Russian economy where modern banks would play a critical new role, the two men decided to establish themselves in banking. It was a risky decision at a time when the economy experienced one crisis after another.
"We were more than a little nervous about what we were stepping into," says Ponomarenko. "The economy was quite turbulent in the early '90s. In fact, our first banking venture, Yalosbank, did not survive the crisis in 1996, after only three years. But we were young and eager willing to take risks to succeed in business and eventually do something that we thought was genuinely important."
The Russian General Bank (RGB), however, was an unqualified success. The bank's assets grew annually, and by 1998 it was ranked 96th among domestic credit institutions.
Seeing a need for reliable and transparent banking services for the Russian consumer and Russian businesses, they acquired several banks and merged them into RGB, creating a new institution they named Investsberbank, with offices in Moscow, St. Petersburg and other large Russian cities. By 1998 the bank was ranked 96th among domestic credit institutions in the country.
"I don't think there was any magic to the success of Investsberbank," says Ponomarenko. "We have always tried to look ahead and to be where the economy was going. People were going to need modern, efficient, friendly, reliable banking services, and we provided them."
By the mid-00s, Ponomarenko had become one of the famous and recognizable entrepreneurs in Russia, and the value of the RGB's assets had already totaled nearly $1 billion. His businesses began to attract interest from abroad, including from Hungary, and in 2006, the media reported the purchase of Investsberbank by the Hungarian OTP Bank for more than $470 million.
Looking into the future, Ponomarenko saw the need to complement the knowledge of business and the economy he had gained through his own experience with knowledge of the theory and history of business by researching issues related to entrepreneurship. He became a research fellow at the International Institute of Corporations in January 1992 and graduated from the Ordzhonikidze Academy of Management five years later. His Ph.D. dissertation was on the regulation of small and medium-sized businesses, and in 2001, he became a Doctor of Economics, defending a dissertation on state regulation of corporations.
"Practical experience is priceless," says Ponomarenko, "but it is extremely important to understand the theories that have driven business over the years and also to learn from the experience of others. There is a vast world out there beyond one's own experience, and I think anyone who wants to succeed in business should try to understand it."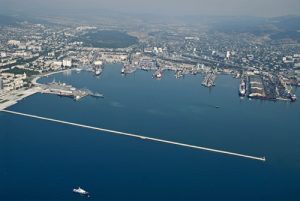 Moving on from banking, Ponomarenko and Skorobogatko foresaw a bright future for the Novorossiysk Commercial Sea Port (NCSP), and they began buying shares in the enterprise and investing in stevedoring companies in the late '90s.
By 2006, a trust acting in the interests of the two men's families owned 63% of NCSP's shares. Then they began investing into the port's infrastructure, expanding the piers and building new terminals for transshipment of grain, mineral fertilizers, bulk cargo, containers and petroleum products. By 2010, cargo turnover at the port had increased to 82 million tons, and ships regularly sailed between Novorossiysk and the ports of EU countries such as Germany, Italy and Cyprus, as well as Turkey and others.
Success and profit will always find willing company, and in November 2007, NCSP launched an IPO and listed on the London Stock Exchange, MICEX and RTS, placing 20% of the shares. The market estimated NCSP's value at $4.9 billion, and investors later sold the controlling interest to the Summa Group and the Transneft Company. According to the Kommersant newspaper, the deal was worth about $2 billion and was one of the largest deals in the transportation industry.
Development
After selling its stake in NCSP, the trust established TPS Real Estate Holding, (along with Arkady Rotenberg, who divested his 33% stake in 2014) with authorized capital of $1.5 billion, to invest in the development of shopping centers. The Russian economy was growing, and Russian consumers had money to spend and wanted the same shopping experience consumers had in Western Europe, North America or the Persian Gulf.
"We believed there was a strong demand for modern shopping centers in the center of large, investment-attractive cities," said Ponomarenko. "We didn't just want to build shopping malls; we wanted to be a major part of the revitalization and growth of our cities. So, what we built had to be good. Our shopping centers had to offer a superior environment and a superior overall experience, not just goods. We knew we had a challenge ahead of us, because we had many experienced competitors, but we had a vision, and we believed we would succeed."
TPS RE now manages 700,000 square meters of commercial real estate. Among them:
Krasnodar Galleryshopping and entertainment center in Krasnodar – 145 thousand square meters
Moremallshopping and entertainment center in Sochi – 169 thousand square meters
Novosibirsk Galleryshopping and entertainment center in Novosibirsk – 134 thousand square meters
"Good!" shopping and entertainment center in Moscow – 114 thousand square meters
Oceania shopping and entertainment center in Moscow – 130 thousand square meters.
Sheremetyevo 
Then came Sheremetyevo. The trust established TPS Avia specifically to invest in the infrastructure of Sheremetyevo Airport, and Ponomarenko began yet another new chapter in an extraordinary business career and personal life when TPS Avia won the competitive tender to develop the northern area in 2013. In 2016 he became the Chairman of the Board of Directors of Sheremetyevo International Airport JSC.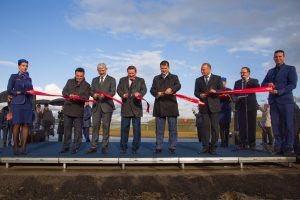 Over the past few years, the airport has built facilities worth more than $2.5 billion, and Sheremetyevo is quickly realizing its great potential, on the path to the ability to handle 110 million people per year in the not-too-distant future.
Wealth
Today, Ponomarenko is ranked 31st on the Russian Forbes list of the wealthiest Russians, with a fortune estimated at $3.3 billion. He was also included in the list of the 1,000 best managers according to the industry association.
Ponomarenko also enjoys going hunting together with his friends, which he does mostly to relax, forget a little about pressing matters, sit by the fire surrounded by natural beauty, and breathe fresh air.
Family 
Alexander Ponomarenko is a private person who seeks to protect his family's privacy. He has three adult children, two sons and a daughter. His daughter studied law at the Moscow State University and is now a practicing attorney. His sons are studying abroad.
"I believe my family deserves to have its privacy," says Ponomarenko. "My children, especially, deserve the chance to live their own lives and have their own successes. I am quite proud of them, and I know they will be successful on their own merits."
Interests
The boy who once boxed in Crimea may be a wealthy executive and entrepreneur, but athletics and fitness have never left him. Ponomarenko exercises regularly and keeps himself in excellent physical condition to withstand the demands of running a large enterprise.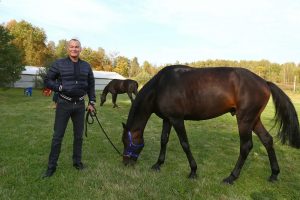 "It is very taxing and stressful to run a large enterprise," says Ponomarenko. "I think it is important to control your schedule so that physical activity is always a part of your day and to maintain a healthy lifestyle. I like to take part in distance horse races, too, because it tests your skill with a horse and your physical endurance. An endurance race can be anywhere from 10 to 160 kilometers long, so it is quite a challenge. I also enjoy going hunting with friends, but my enjoyment comes not from hunting, but from relaxing with friends around a fire and enjoying the fresh air and natural beauty of the wild countryside."